A Wooden Hanging Lamp Shaped Like a Giant Nikon 14-24mm Lens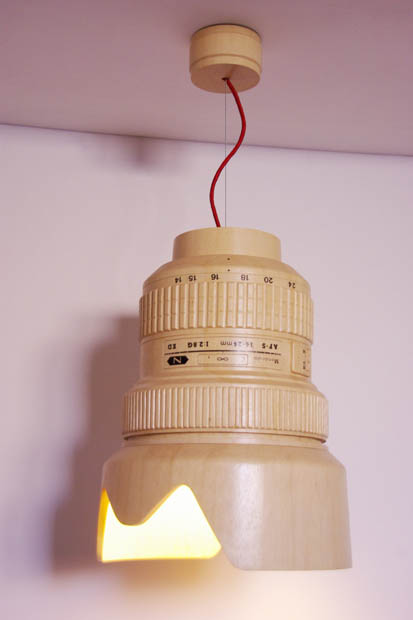 Check out this DSLR Paparazzi lamp, created by Spanish design studio Monoculo Design Studio. It's a wooden hanging lamp that's shaped like a gigantic Nikon 14-24mm f/2.8 camera lens.

It's completely handmade and comes with a detachable lens hood. It can be mounted as a shade, mounted backwards (just like with real lens hoods), or left off to allow the lamp to illuminate more of your room.
Material-wise, the lamp is crafted out of white cedar wood, and has a water-based varnish and a beeswax finish. It connects to the ceiling frame via a stainless steel cable and a red power cord:
It measures 30cm in diameter (about a foot across) and 37cm tall without the lens hood (when the hood is attached it's 49.5cm, or roughly 19.5in). Here's a closer look at the lamp's design and details:
The company is selling the lamp through its Etsy store for $690 (by comparison, the real thing costs 2 grand). If you want to get your hands on one, you'd better act fast — there's only one unit available.
Monoculo Shop [Etsy via Monoculo Design Studio via Nikon Rumors]