The Humorous Photobombs Dropped at Obama's Inauguration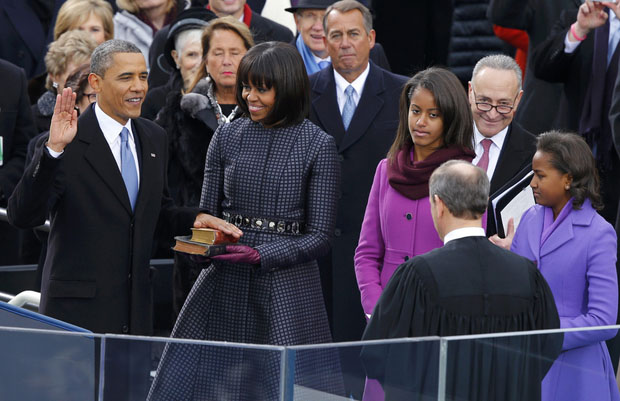 Here's a bit of lighthearted humor as we heat up the bloggin' machine today: at the second inauguration of Barack Obama this past Monday, a number of humorous photobombs were spotted in the live television coverage and in the press photos that emerged afterward. A few of them have the web talking (and laughing).
In the photograph above by Jim Bourg of Reuters, we see New York Senator Chuck Schumer photobombing during the oath of office.

Around the same time, Schumer also used his photobombing prowess during a performance by Beyonce. Here's Matt Bellassai's photo of it:
Not to be outdone, President Clinton dropped a photobomb of his own during a performance by Kelly Clarkson:
Obama's family also got into the act. Here's his brother-in-law Craig Robinson dropping a bomb during a rather serious moment:
Finally, perhaps the greatest of all the photobombs delivered that day was the one dropped by Obama's daughter Malia, who leaned into a shot her sister was trying to take of their parents kissing. The whole thing was captured by news cameras and broadcast nationally during the inauguration coverage:
If you know of any other funny photobombs from Inauguration Day, feel free to share them with all of us in the comments below. Now, back to our regularly scheduled programming.
(via Yahoo and Laughing Squid)