A Creative Light Painting Photograph That Makes Sparks Look Like Rain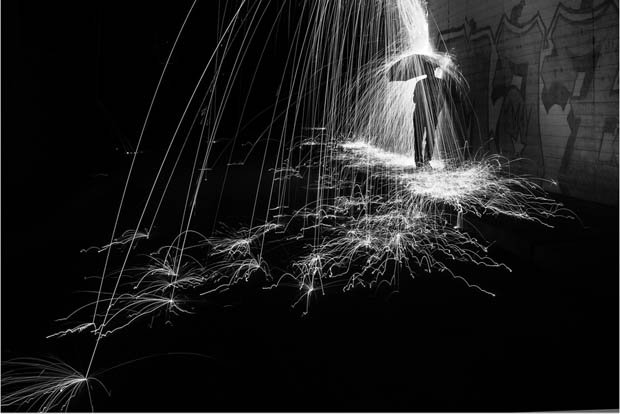 After seeing an online tutorial on steel wool light painting, photographer Simon Berger found a friend to model for him and went out to try his hand at the technique. After some initial success, he started brainstorming creative ideas that he hadn't seen before. The result of the brainstorming was this stunning shot that makes the sparks from a burning piece of steel wool look like rain falling on an umbrella.

Here's the original color (and uncropped) version of the photograph, which features Berger's brave friend Martin: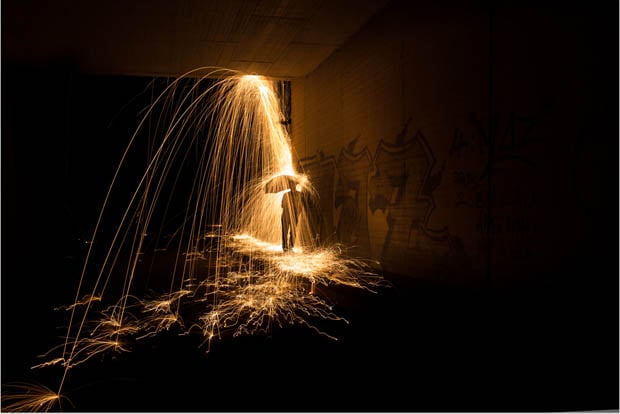 Berger tells us that his photographs use ordinary steel wool that's set ablaze for the sparks. He sets his Canon 5D Mark III at an aperture of f/8, an ISO of 100-200, and a shutter speed of 15-20 seconds.
Here are some of Berger's other steel wool light painting experiments:
If you decide to try your hand at steel wool light painting, be sure that you protect both your eyes and your camera's eye from the sparks. Wear goggles, and put a cheap filter on your lens to avoid getting molten metal on the front element.
Pouring Rain Noir by Simon Berger (via Colossal)
---
Image credits: Photographs by Simon Berger and used with permission