Photographer Captures Intimate Photos of Mecca with a Medium-Format Camera
Mecca in Saudi Arabia is considered to be the holiest city of Islam, and is only accessible to Muslims. 38-year-old London photographer Toufic Beyhum wanted to document what a pilgrimage is like for a Muslim and to "portray the peaceful and spiritual side of Islam", so he brought along a Hasselblad 500 medium-format camera when he visited the city. His images — a few of which were snapped in locations where photography was prohibited — offer an intimate look at locations that most people will never be allowed to see in their lifetimes.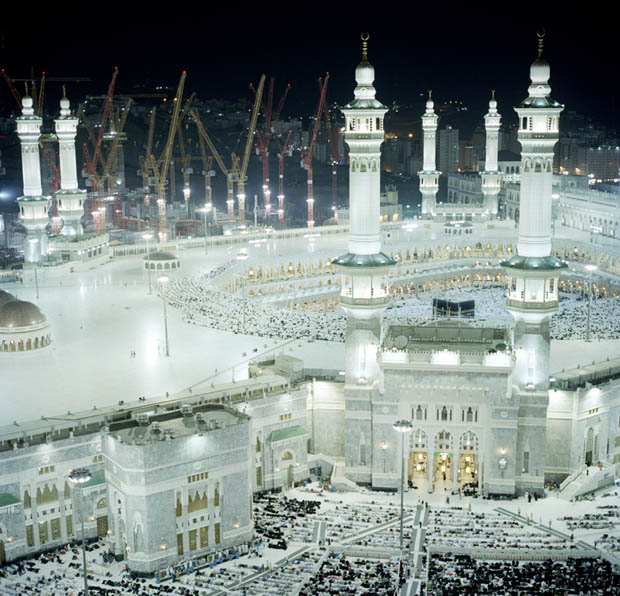 Here's what Beyhum had to say to us about this project:
I wanted to go to Mecca for spiritual reasons, I only decided at the last minute to take my Hasselblad 500, my light meter and about 6 rolls of film. I wasn't sure if I'd even had the time to take any photos, and I didn't realize you were not allowed to take a camera into the mosque till I got there. I spent a week in Mecca and it was one of the best experiences of my life. Mecca is like a resort for praying: everyone is there for one reason, to pray.

Every hotel, shop & restaurant was full of Muslims from all around the world, every nationality. The bond between people was very strong no matter what nationality, colour or class.

Living in Europe I see how much bad press Islam gets from the media. We are bombarded with images of Muslims portrayed as terrorists or as intolerant, yet those minorities make up less than 1% of the whole Muslim population. I felt that I needed to show the peace & unity that I witnessed while I was in Mecca.

I am very glad that I took my Hasselblad. It was the perfect choice, as it's not a place you go to very often so I wanted to make sure the quality was exceptional. Out of the thousands of people, I did not see anybody else with a medium-format camera, so I did get a few stares as I held out my light meter. It was trickier when I photographed inside the mosque. There were plenty of people taking photos but with their compact digital cameras or mobile phones.
You can more of Beyhum's work over on his website.
Mecca by Toufic Beyhum (via Wired)
---
Image credits: Photographs by Toufic Beyhum and used with permission