Leaked Photos of Fuji's More Affordable X-E1 Mirrorless Camera
Back in July, we reported that Fuji was preparing to launch lower-end and higher-end siblings of its popular X-Pro1 mirrorless camera. We now both what the cheaper camera will be called, and what it'll look like.
Named the "X-E1", the camera had two of its product pictures leaked today through Digicame-info.

The camera will offer the same slick styling that got the web buzzing about the X-Pro1. The cost savings will be due to what it
doesn't
offer. Gone is
the fancy hybrid viewfinder
that lets photographers quickly switch between optical and electronic. Instead, only live view and an electronic viewfinder will be available at your disposal.
The layout of the buttons and dials on the top of the camera look nearly identical to what's found on the X-Pro1, suggesting that the features of the two cameras might be very similar. There also appears to be a pop-up flash next to the hot shoe, something not found on the camera's older sibling.
Here's what the silver version will look like: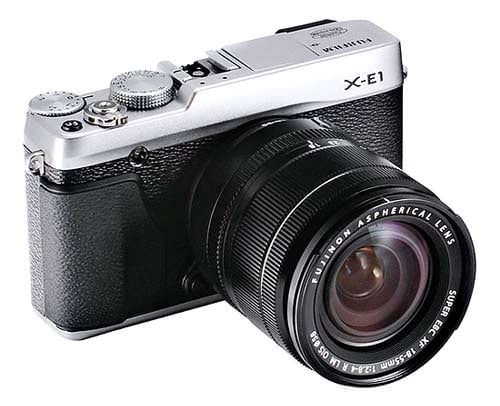 Not much else is known about the camera at this point. Expect the official announcement to come during Photokina next month. Now lets see if the higher-end X camera leaks as well!