Large Format Sports Photographer Seen at Olympic Gymnastics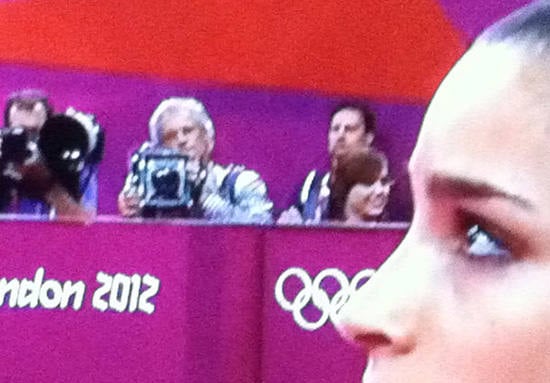 If you were given the task of shooting gymnastics at the Olympics, what camera would you use? The Canon EOS-1D X for its 14fps capabilities?
At least one Olympic sports photographer chose something much slower, much larger, and much older.

Eagle-eyed
PopPhoto
editor Stan Horaczek was watching a women's gymnastics event on TV last week, when one of the photographers in the background caught his eye. Instead of the standard pro-bodied DSLR with a massive telephoto lens, the man was shooting with what Horaczek guessed was "an old school press camera".
After posting a screenshot (or a shot of his screen, to be precise) to PopPhoto, the magazine's readers quickly identified the photographer as David Burnett. Burnett is a legendary large-format photographer who has covered seven Olympic games with his old school film cameras.
In a recent interview with the New York Times, he was asked about his camera of choice for the London Olympics. He responded,
I'm not sure, but I'll bring the 4×5. One of the difficulties of a 4×5 is always remembering to do everything in the right order. You've got to focus, close the shutter, cock the shutter, put the film in, pull the dark slide and hope that you haven't actually shot that film before. Then put the dark slide back in, you flip it so the black edge is out that says, "I've been shot, don't shoot me again."
It looks like he did indeed bring his 4×5. We can't wait to see the resulting photographs!