Reuters Photog Gets Into a Fight With a Bull, Somehow Saves His Camera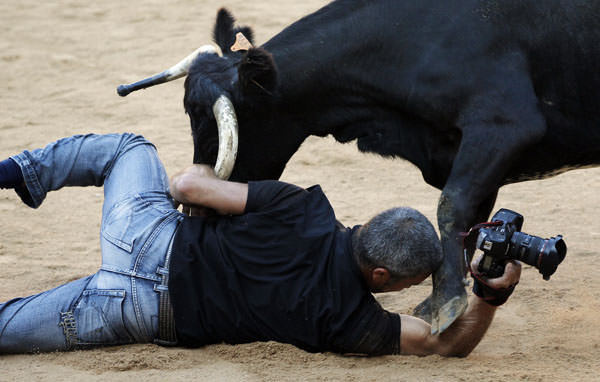 When firefighter Joseba Etxaburu isn't putting out flames, he works as a photo stringer for Reuters, and for the past 12-years he's been attending the San Fermin festival in Spain, more commonly known as the "running of the bulls". This year, however, while covering the release of wild cows into the bullring, he got a little bit more personal with one of his subjects than even he was comfortable with:
I think the cow had spotted me from the start and didn't like the look of what she saw. She had a crooked horn and maybe she was self-conscious about being photographed. She kept her eye on me and started advancing. I tried to back away using a circular motion. It's never a good idea to run to or from bulls or cows in a straight line. They are faster than you and will catch you. It's better to move in a curve. They have less ability to turn than we do and there's a chance you can out-turn her. On this day though that didn't happen. She came at me and while I was trying to dodge, I slipped.

I grabbed onto her horn to stop her tossing me. It worked but she stepped on my elbow, which is the biggest scratch I got that day. With my other hand I held onto my camera. Those things aren't cheap.
The whole altercation, Wild Cow vs Photog, was caught on camera by Reuters photographer Susan Vera:
You have to give the man credit, even as his life is in danger he holds on tight to his trusty SLR. It's moments like this you wonder what you would do if faced with a charging bull, and chances are the answer doesn't have your camera making it out alive. Check out the whole story over on the Reuters Blog.
Photographer vs. wild cow (via PopPhoto)
---
Image credits: Photographs by REUTERS/Susana Vera