Photographer Behind Now-Iconic 'Texting Hillary' Photo Wasn't Amused — At First
During the past week, a new meme called "Texts From Hillary" has been taking the web by storm. It involves two photographs of US Secretary of State Hillary Clinton checking her phone on a flight while wearing sunglasses. By combining the images with other photographs and witty captions, the creators imagined what her texts conversations with other famous individuals might be like. Not everyone found the meme hilarious: the Washington Post writes that photographer Diana Walker wasn't amused when she first saw her images being used:
[…] the incident underscores the conflicts between photographers, who want to control their work, and the wide world of the Internet, where everything seems free. "There needs to be a dialogue about this," she says.

And she wishes that people who want to grab photos from the Internet and use them for their own purposes would make an effort to contact their original creators. "Before they used it, how about a call to me?" she asked. But, she admits, that might have resulted in no such memorable meme. "I'm not sure I would have said yes."
However, the site's creators soon added a credit line for Walker with each photo and the photographer — along with Clinton herself — is now "amused and taken with the idea that this picture is all over the world."

Here are some of the images from the meme: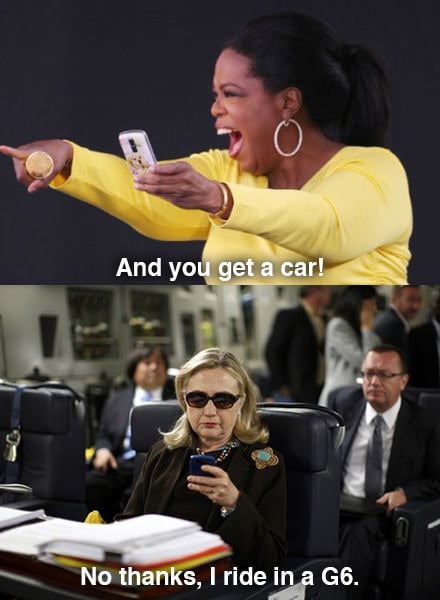 You can find the original photographs here and here (the other photo is by Reuters photographer Kevin Lamarque).
(via Washington Post)