Canon 5D Mark II Groom's Cake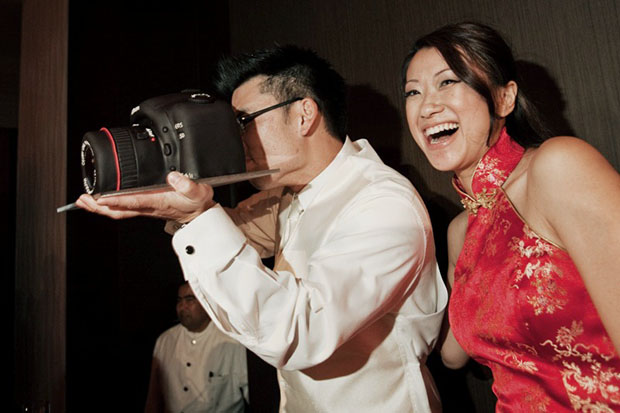 We recently featured a Canon 5D Mark II shaped cake, but didn't have any photographs of the back.
It just so happens that Daniel, the man for whom the cake was made, recognized it on PetaPixel and emailed us with more photographs and some background:
That cake was my groom's cake, which was presented as a surprise by my awesome wife during our wedding reception. Knowing how much I love photography and my 5Dmk2, my wife commissioned BethAnn (owner of Studio Cake) to create this amazing piece. Since you were wondering what the back looked like, I thought I'd send you a pic…the picture on the screen is a shot from our engagement shoot (by Ray of Apertura Photography).
It's amazing how much the cake resembles the actual camera. We love the engagement photograph displayed on the "LCD". Sadly, Daniel informs us that the photo itself wasn't edible.
This cake sets quite a bar for photography-related cakes. If you have any photos of similar cakes, feel free to email them to us!