Duck Runs the NYC Marathon Wearing Webbed Running Shoes
Photographers covering the New York City Marathon this year were treated to a strange and adorable sight: one of the competing athletes was a duck wearing webbed running shoes.

The annual NYC marathon is one of the world's major marathons and among the most prestigious long-distance races in the United States. It's also the largest marathon in the world, with over 50,000 finishers in a normal year, though this year that number was reduced to around 33,000 due to the COVID-19 pandemic.
One of those racers this year, however, was an emotional support duck named Wrinkle.
"Wrinkle the duck is more than just a beautiful Pekin duck," the owners, New York artists Justin Wood and Joyce Kung, write on YouTube. She is a full-grown adult human child. She is fast. She is speed. She is zoom. She is Wrinkle. Still fast as duck boiiii."
"I ran the NY marathon!," "Wrinkle" writes on Instagram. "I'll get even better next year! Thanks to all the humans that were cheering for me!"
You can see clips of Wrinkle in action in this 2.5-minute video:
Wrinkle was the center of attention as she waddle-ran down NYC streets during the 50th running of the race on November 7th. Runners and spectators alike smiled at the sight and cheered the little running on, and there were countless cameras pointed at her along the way.
Particularly of interest were the little red shoes on Wrinkle's feet. Wood and Kung tell Runner's World that they made Wrinkle the booties out of scuba-gear-like material that is soft, easy to clean, and waterproof to protect the duck's feet from bumblefoot, a bacterial infection caused by running on rough ground.
"Everyone's asking about the shoes," Wood tells the running publication. "So we're looking into trying to mass produce them and put them out there."
Wrinkle has caught the attention of at least one "celebrity" who is now a fan: the Aflac Duck left a supportive comment on Instagram that reads "Ducks supporting ducks."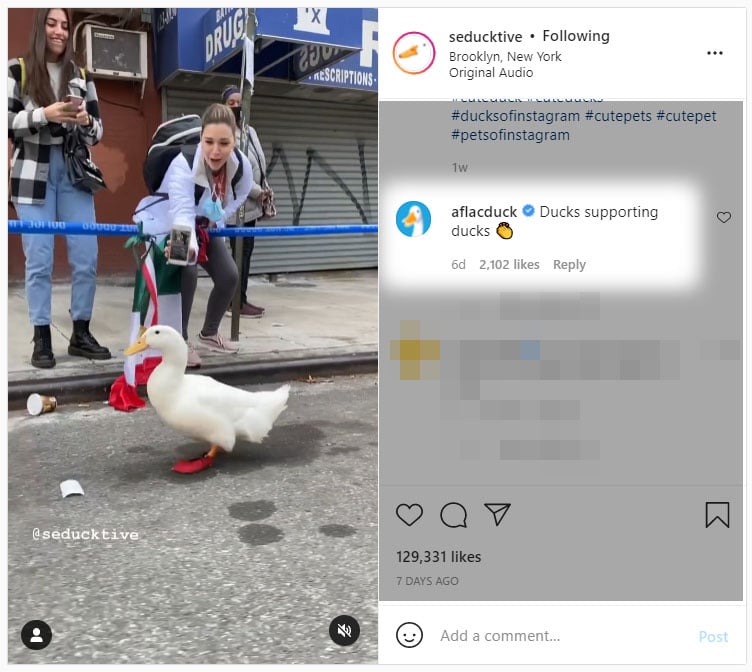 Photos and videos and Wrinkle's participation have since gone viral online. The duck is now receiving international news coverage, and posts on social media have received millions of views, reactions, and comments.
You can follow along with Wrinkle on his adventures through Instagram, TikTok, YouTube, and Facebook. There's also an online store that sells merchandise with Wrinkle's face on it.
Perhaps Wrinkle's next source of income will be a sponsorship with a webbed running shoe company.
---
Image credits: Still frames and video by seDucktive and used with permission