Great Reads in Photography: June 13, 2021
Every Sunday, we bring together a collection of easy-reading articles from analytical to how-to to photo-features in no particular order that did not make our regular daily coverage. Enjoy!

---
Photographing Afghans in the Forever War – Adam Ferguson
Disillusioned with making photos that turned soldiers into heroes, the photojournalist turned to civilians to show the human toll of war.
The 5-Minute Sunday Interview
Phil Mistry: In 2008, you went to Afghanistan to photograph the war, but you are anti-war. So, why did you do this?
Adam Ferguson: I believe in the importance of dialogue around conflict and wanted to participate in the tradition of this type of storytelling. I think it's crucial that photographers, artists, writers, and storytellers make narratives that become our collective understanding of specific wars and conflicts. The act of photographing was also an act of protest.
PM: When you are embedded with the US Army and Marines, are you really documenting the war or just going on a State-sponsored media trip?
AF: The transparency I encountered was surprising. For example, on an embed in 2010 with US Marines, I photographed a civilian casualty. The Marines had accidentally mortared a house and killed a young Afghan girl. I documented the entire event and was not censored by the military. So, there was a lot of room to make valid work that was important to understanding the context. Beyond the documentation, though, the work went on to exist in a larger framework, and I always struggled to reconcile how the act of being there inevitably inspired empathy for the troops on the ground, which inspired support for the war. This was something I had trouble reconciling.
PM: How did you end up pivoting to taking portraits of regular Afghan people from your job of photographing the war effort?
AF: It was a switch that came out of my frustration with what I mentioned above. My work existed in a space that ultimately heroized the Marines and soldiers. So, I knew I needed to make work that was counter to this.
PM: Why did you shoot the portraits at night with a flash to create a dark background?
AF: This was a technical decision that I believed illustrated what I intended conceptually — Afghan's feeling isolated, suspended, and in the dark.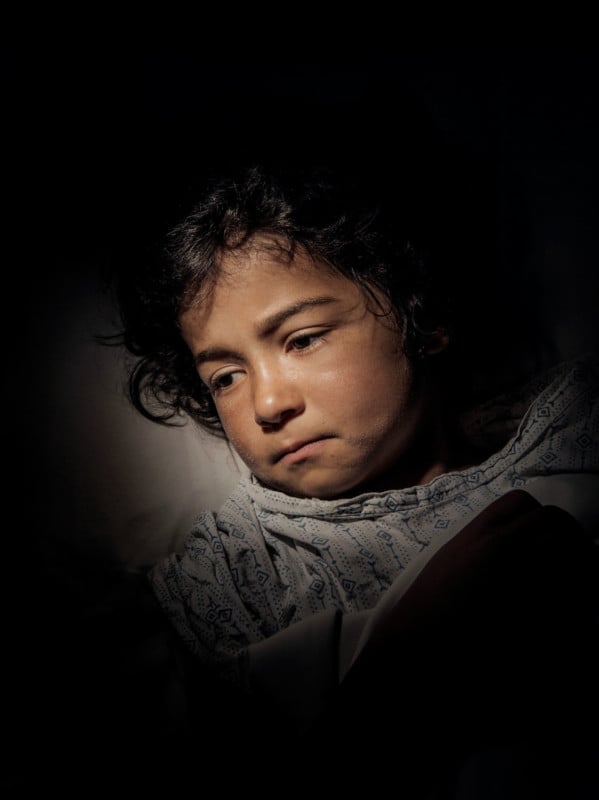 PM: In these portraits, none of your sitters are making eye contact with the camera. Did you tell them not to? Why?
AF: It was my intention to make the portraits feel like they were a glimpse into individual stories that felt fleeting. So, I asked the subjects to look to the side of the camera to accentuate this. Portraits that use eye contact create an interaction between a viewer and sitter that become about the intensity of a gaze. Having the subjects look off-camera allowed more space and time to be curious, to seek out their stories.
---
Pete Souza, Obama's Photographer, Joins 6 Others as Newest Hall of Fame Members – GazetteXtra
The International Photography Hall of Fame and Museum (IPHF) has announced its 2021 class of Photography Hall of Fame Inductees, which will be added to the Hall of Fame and Museum, located in the Grand Center Arts District in St. Louis. The IPHF annually awards and inducts notable photographers or photography industry visionaries for their artistry, innovation, and significant contributions to the art and science of photography. The IPHF is the proud home to over 2,000 historical cameras and 30,000 images.
2021 Honorees to be inducted into the Hall of Fame include the following seven photographers or photography industry visionaries who demonstrate the artistry, passion, and revolution of the past and present art and science of photography:
Dawoud Bey, Fine Art Photographer
Larry Burrows, War Photojournalist
Philip-Lorca diCorcia, Fine Art Photographer
David Douglas Duncan, Photojournalist
Sally Mann, Fine Art Photographer
Pete Souza, Photojournalist, author, and former Chief Official White House Photographer for President Obama
Joyce Tenneson, Fine Art Photographer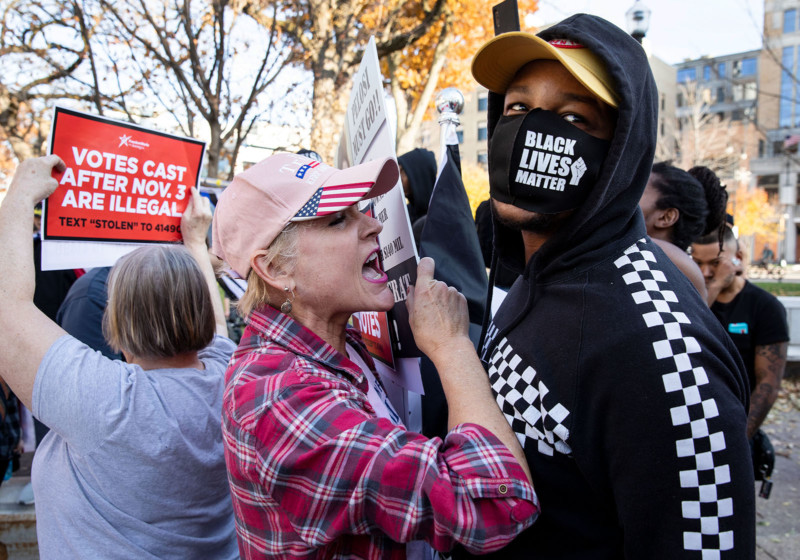 In addition, Joel Sartore, National Geographic photographer, and fellow, and National Geographic Photo Ark founder, will be presented with the first-ever IPHF Visionary Award; and Professional Photographers of America, the world's largest nonprofit trade association for professional photographers, will receive the Leadership Award.
---
Lewis Hine, Photographer of the American Working Class –Jacobin
Few American photographers have captured the misery, dignity, and occasional bursts of solidarity within US working-class life as compellingly as Lewis Hine did in the early twentieth century.
---
Iraq Rediscovered, America Uncovered – Photography in Art Basel's Online Viewing Rooms – Financial Times
Note: This article contains some artistic nudity that may not be safe for work.
Photographer Latif Al Ani's shots from the 1950s to the 1970s Iraq evoke a lost era, among a rich offering that moves right up to today.
And then Saddam Hussein imposed a ban on taking photos in public. So, when the Iran-Iraq war erupted in 1980, Al Ani, who had even traveled with Hussein to Paris, lost faith and stopped his shooting.
From June 17-19, at ArtBasel.com's first curator-led online viewing rooms, you can see a selection of Al Ani's work.
"He went up in a light aircraft to take the first aerial shots of Iraq — the method as modern as the imagery — and professed to be the only person in the country who knew how to develop color film," says the Financial Times.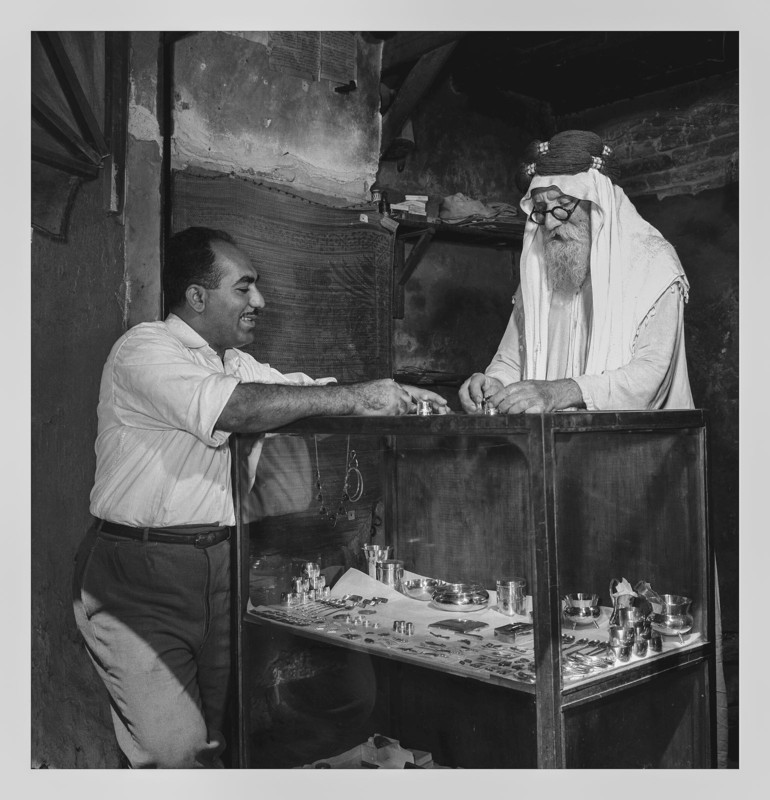 Latif Al Ani was one of the first photographers in Iraq. He still lives in Baghdad, and if you want to see an excellent collection of his historical images and his story in his own words (in an interview), check out Latif Al Ani, published by Hatje Cantz.
---
Catherine Opie Picks Eight of her Most Career-defining Images – i-D
"The only way we can often know ourselves is by seeing ourselves," photographer Catherine Opie tells i-D. "I've been an activist within my community ever since I moved to San Francisco in 1982, and I'm still moved by the movement of people in protest.
"Politics has always run throughout my work…It's a political act to be out there, being me in my body, in this society we live in. It's hard for women to take up space. And I'm a big woman who's decided to take up space."
In the early 90s, Opie's identity-equals-community mantra gave rise to her breakthrough portraits of her leather dyke "family" in Los Angeles.
"One of the things about photography that I've always loved and vacillated between is that within the bodies of work is that place of discovery," Opie, a professor of photography at UCLA, told The New York Times in 2019.  "That's what it is to keep making images with a camera. As for portrait sessions themselves, I don't think anybody's really that comfortable with having their portrait taken. I don't really push people to the extent of being tortured. Having strobes in your face is a pretty unpleasant experience. I'm very fast, and I give a lot of directions. I know what I'm after."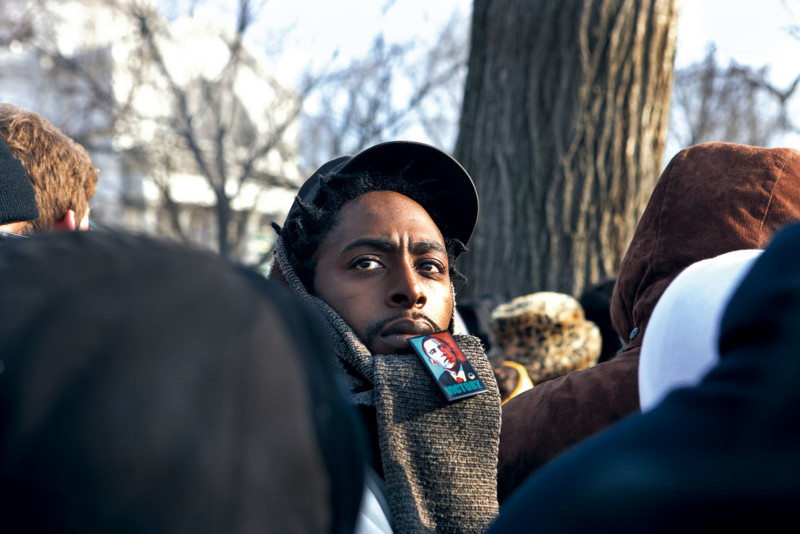 Catherine Opie, with essays by Hilton Als, Douglas Fogle, Helen Molesworth, and Elizabeth A. T. Smith, and an interview by Charlotte Cotton, is published by Phaidon.
---
Photographer Anton Corbijn on 40 Years Shooting Depeche Mode – The Guardian
Anton Corbijn initially thought Depeche Mode were pop lightweights – then turned them into moody megastars. The photographer recalls his adventures with the band, from desert trips to drug-induced near-death experiences.
When the band – reassembled with Martin Gore installed as a songwriter – asked to work with him once again, he declined more than once.
"It's just more pleasing if you take photographs of people whose work you admire," he tells The Guardian, over a Zoom call from his studio in The Hague.
Corbijn liked more "guitar-oriented stuff," and when he initially heard them perform live, it left little impression on him.
Five years later, he agreed to work with them on a video for their single, which would culminate in a 40-year partnership to not only taking photos and directing videos but also becoming the band's visual director.
Depeche Mode by Anton Corbijn is out now, published by Taschen. The book has over 500 images from Corbijn's personal archives, some never seen before, as well as Corbijn's handwritten captions and an in-depth interview.
---
This Photographer Captured 40 Photographs Which Perfectly Show the Power of Perspective – Bored Panda
View this post on Instagram
Hugo Suissas from Lisbon, Portugal, uses forced perspective to turn everyday objects into something magical.
Suissas never studied photography anywhere and just got inspired through a friend on Instagram. Most of his photography is on a mobile phone.
"When I was a kid, I did magic as a hobby and did some magic shows," explains Suissas to Bored Panda. "For me, magic and perspective are similar in the sense that all is an illusion. I started to use perspective in my photos when I realized that it was a great technique to convey an idea and get a reaction from the public."
"I have just created the 'Vaccine Towers' project that is going viral at the moment. This project is a worldwide awareness campaign on Covid vaccination with the hope that we can get rid of this virus as soon as possible…From New York to Berlin, this project reminds people we can only rise once again if they're up for getting vaccinated."
---
Rihanna Shot and Styled Herself for the Cover of Vogue Italia – Independent
View this post on Instagram
Posting images on her social media from the shoot, the credits in the caption revealed that Rihanna not only styled and shot the images but was also responsible for being the project director. Did she use the self-timer and check the pose in a monitor in front of her? I hope this does not catch on; otherwise, more photographers will be out of work.
Notable: Speaking about the DIY issue, Vogue Italia revealed it's the first time they've had someone style and shoot their own cover.
---
Day in My Life as an Air Force Photographer
USAF First Lieutenant Sam Eckholm shows us a day in the life of an Air Force photographer during his time as a member of the F-22 Demonstration Team.
---
Story of a 16 June 1976 Black-and-White Photograph That Changed Everything in South Africa – Daily Maverick
Photographer Sam Nzima was in Soweto on 16 June 1976, when police opened fire on schoolchildren protesting against Afrikaans as a medium of instruction. His photographs from that day – including the iconic image of Hector Pieterson – were published around the world. But, although his work helped open up opportunities for other black photojournalists, Nzima left the profession as a wary and bitter man.
AFP's Sam Nzima obituary in The Guardian.
---
Minnesota Photographer Captures Remarkable Pic of Turtle Sunning on Common Loon's Back — Bring Me the News 
View this post on Instagram
Photographer Scott Rykken was at his lakeside cabin in Douglas County, Minnesota, when a unique scene presented itself.
He spotted a common loon nesting on a platform built by neighbors a couple of years ago. But a small turtle was trying to climb up on the back of the loon, which remained very calm throughout.
"Never have we seen a turtle even attempt to climb on the loon," Rykken told Bring Me The News.
And to top it all, there was even a muskrat just in front of the loon on the same platform.
Rykken, a retired science teacher who takes landscape and wildlife photographs, added the loon "never showed any signs of being angered in any way. She even put her wing up once to help the turtle from sliding once it got on top."
---
Best Phones for Portrait, Landscape, Low Light, Zoom, and Video – DXOMARK
DXOMARK picked four of the most popular phones in the Premium segment to compare, identify their strengths and weaknesses, and find out which type of photography they're best suited for. Here is an overview of the camera specs of the four candidates: the Google Pixel 5, the Samsung Galaxy S21 5G (Exynos), the Xiaomi Mi 11, and the Apple iPhone 12.
If you disagree with the results, let us know in the comments below.
---
Photo of the Week
Wild Asian elephants rest on the ground in Kunming, Yunnan province, China, while the herd treks hundreds of kilometres after leaving their forest habitat in Xishuangbanna National Nature Reserve. More photos of the week: https://t.co/0UEKYEh4V9 📷 China Daily pic.twitter.com/YDVH7yxlm3

— Reuters Pictures (@reuterspictures) June 11, 2021
Editor's Note: Although the above photo looks pleasantly serene, this group of 15 elephants has broken into villagers' homes in search of food and destroyed their crops in their 300-mile trek. All told, the herd has now caused more than 400 separate incidents of damage, worth some $1.1 million, according to China's state-run Xinhua News.
---
Quiz of the Week
Did a Jewish photographer develop the very film on which the Nazis killed her entire family?
Answer: Yes, Faye Schulman did in 1942 in Poland.
---
Why I Like This Photo — Jeffrey Stockbridge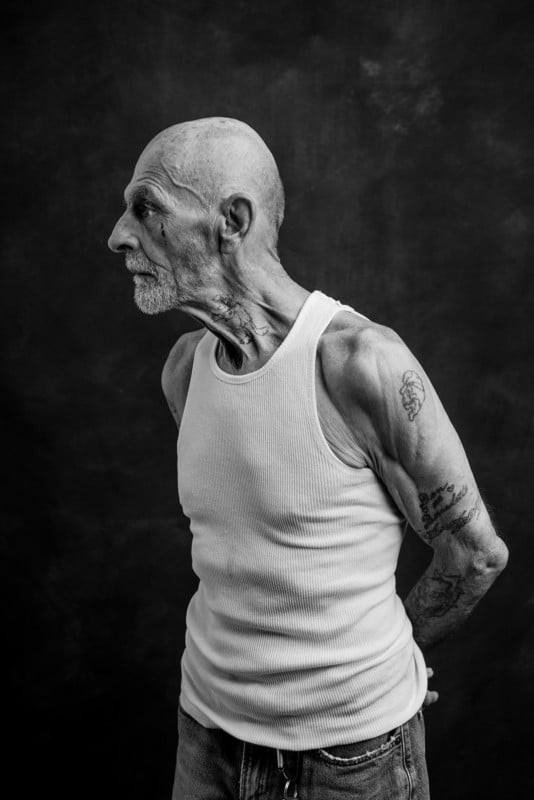 I like this photo because of its sculptural quality. Don (pictured) is a fascinating man with a unique look and physic. As he looks off the frame, the viewer is given a free pass to study the intricacies of his body in detail.
You might infer that Don has lived a hard life – teardrop tattoo, wiry frame and pulsating veins… but his facial expression suggests a gentle soul who has survived a lot. The truth is that Don is a recovering heroin addict who spent many years of his life in jail and has worked hard to put his life back together and maintain sobriety.
This image resulted from a pop-up portrait studio I set up in an old barbershop on a busy corner in North Philly during the summer of 2018. Kensington is a tough neighborhood that has been in the news a lot for stories about drug use, violence, and homelessness. I've photographed extensively in the neighborhood and wanted to give back to the community, so I offered free photoshoots to neighbors for the entire month of June.
I lit Don with a large soft box directly overhead and just out of frame. I made this photograph with a common DSLR and a 50mm normal lens. While many photographers may want to know the specific type of camera, the truth is that it doesn't matter. The camera didn't make the picture, I did, and I'm not interested in advertising for any particular camera manufacturer. Too much emphasis is often misplaced on the technical and not enough on the creative process.
Over the course of the month, I photographed hundreds of people and provided them with images free of charge. I spent a lot of time getting to know people in the neighborhood and developing trust. I believe that this is the most important skill for a photographer to master in order to create lasting and meaningful work.
Jeffrey Stockbridge's (b. 1982) photographs have been included in recent exhibitions at The National Portrait Gallery London, The Philadelphia Museum of Art, The Delaware Art Museum, The Delaware Center for Contemporary Arts, and The Houston Center for Photography. In 2019 he was awarded a John Simon Guggenheim Foundation Memorial Fellowship in photography. Stockbridge lives in Philadelphia, PA, and is a 2005 graduate from Drexel University with a BS in photography.
---
Quote of the Week: Pete Souza
My favorite photograph is the one I will take tomorrow. — Pete Souza
Pete Souza (b. 1954) is a photojournalist, the former Chief Official White House Photographer for Presidents of the United States Ronald Reagan and Barack Obama. See above for induction into the Photography Hall of Fame.
---
To see an archive of past issues of Great Reads in Photography, click here.
---
We welcome comments as well as suggestions. As we cannot possibly cover each and every source, if you see something interesting in your reading or local newspaper anywhere in the world, kindly forward the link to us here. ALL messages will be personally acknowledged.
---
About the author: Phil Mistry is a photographer and teacher based in Atlanta, GA. He started one of the first digital camera classes in New York City at The International Center of Photography in the 90s. He was the director and teacher for Sony/Popular Photography magazine's Digital Days Workshops. You can reach him via email here.
---
Image credits: All photographs as credited and used with permission from the photographers or agencies.