How to Hire a Professional Event Photographer
This article will focus on how to choose an event photographer, but before getting into how to hire a professional photographer, it's important to first discuss why you should hire one.

Depending on how you value photography, you might not think hiring a professional is necessary. You may have seen amazing photographs made by non-professionals, so why even bother? The answer is consistency. Anyone can get lucky or have the skill to make an excellent image here or there, but a good professional photographer is able to provide you with consistent results.
Their ability to do so is primarily determined by two factors: their technical skill as a photographer and their familiarity with what the job requires.
Why a Photographer's Skill Matters
When I first started out as a professional photographer, a mentor of mine used to say there are two types of photographers: technical photographers and creative photographers, with very little overlap. Although there may be some truth to photographers falling into one of the two camps, the notion that these two things are somehow apart is a misunderstanding.
Being technical or creative is not mutually exclusive. In fact, it is by being a technical photographer that you are able to be most creative. By understanding how your camera and the principles of photography work, as well as understanding how the camera sees in comparison to the human eye, a photographer is able to effectively execute their vision.
A photographer who has mastered their craft to the point in which all the decision making is done subconsciously is free to focus on what is in front of them and not hindered by conscious thought. Although being a technically good photographer does not mean you understand how to capture the essence of an event, it does free up the cognitive bandwidth to do so.
Less skilled photographers who may be relying on set techniques or "what worked" in the past are not adaptable. The minute unfamiliar variables are introduced they can be uncertain what to do and be ill-prepared to produce quality images. A skilled photographer will be able to provide excellent images regardless of the variables of your event.
The need for still images in modern day marketing has become increasingly important. 80% of marketers use visual in their social media marketing while 32% of marketers say visual images are the most important form of content for their business. Visuals are said to be processed 60,000 times faster than text. Social media posts that include an image is 10 times more likely to receive engagement.
Questions to ask:
When hiring a photographer, the best way to assess their skill and adaptability is by asking to look at sample events. This will be the best indication of what you are potentially paying for. This is something a portfolio cannot do since a portfolio is just a collection of a photographer's best images. You want to assess the quality of their average image, not their best.
I recommend asking them if they could share a similar event to yours as well as something unrelated. Seeing the type of work a photographer has produced in a variety of conditions gives you insight into their technical skill and adaptability. This includes understanding how to work in varying venues, dealing with different lighting situations, program formats, etc.
What Should Your Event Photographer's Focus be?
It is a given that when photographing an event, details matter. A lot of hard work goes into producing an event of any size and a photographers job is in part to capture those details. However, a photographer's priority should be on capturing defining moments of an event that both tell a story and evoke a feeling. Every image should be about something, whether that be an emotion, reaction, or an interaction, there should be meaning behind the photograph. These are the images that offer a window into what it was like to be there.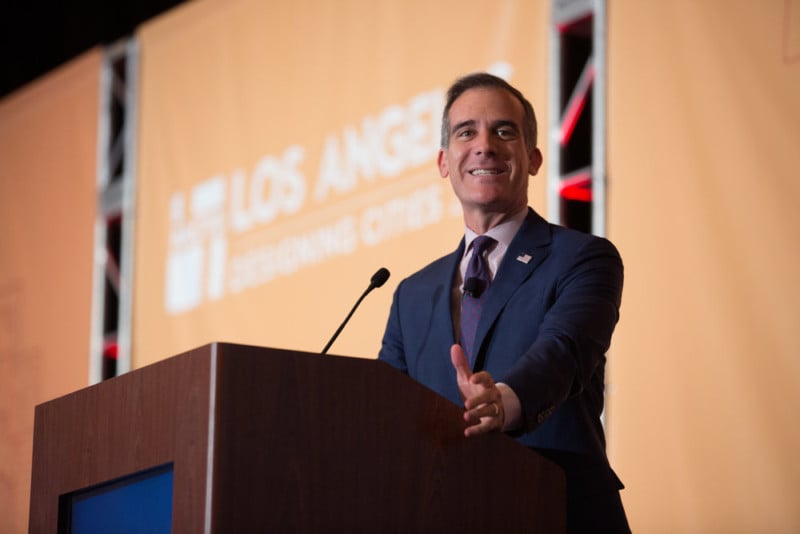 Knowing what Professional Photography Requires
A photographer with a breadth of work experience will simply be able to assess situations quicker. What this means to you as a client, is more extensive coverage and therefore a greater number of quality images. An experienced photographer has likely shot an event like yours before and therefore knows the general format of your event as well as any other specific challenges: whether it be a conference, birthday party, award dinner, luncheon, or nonprofit event, each has a different format.
Questions to ask:
When first contacting a photographer a good question to ask is if they have shot an event like yours before. Ask them if they have had similar lighting or environmental challenges and how they have dealt with them. I also recommend asking to see specific examples.
The Importance of Style or Lack of
When hiring an event photographer, you are choosing someone to create images that accurately represent your event and/or brand. Keep that in mind when looking at their work. However, I recommend avoiding images that are overly stylized in post as they will have less latitude should you decide to have them further edited to match a visual style. Rather, I recommend finding a photographer whose style of shooting will effectively tell your story or document your event. I suggest looking for relatively neutral post-processing. This will give you more freedom in how you use and stylize (if necessary) the delivered images.
Questions to ask:
If you have already looked at full galleries of delivered images from a variety of events, you should already have an understanding of a photographer's visual style. However, I still recommend asking about what sort of editing is included in their services. You will already have a good idea of this just by viewing their work.
Preparing your Photographer for Your Event
Prior to the day of your event, it is a good idea to brief your photographer on the series of events if any and provide them with a written timeline. Truthfully, assuming you have hired an experienced, adaptable photographer, they should easily be able to capture everything without guidance. However, If you have any surprise events, I recommend informing your photographer of when and where they will take place to ensure they do not miss it.
Event Photography Rates
Rates vary, but expect anywhere between $150 and $450 per hour. This will vary depending on the photographer and any specific requests or services. You definitely get what you pay for, but if you've read this far into this article, you know how to assess the quality of a photographers work.
Additional questions to ask:
What rights do I have to use the photos?
Most event photographers work usage rights into their hourly rate, but be sure you have clarity on this. I always recommend requesting a contract.
What is your rate for additional retouching?
The average cost starts at $50.
Conclusion
With this, you should now feel well prepared to hire an event photographer with minimal risk of being disappointed. Remember you get what you pay for, but now you will be well prepared to see exactly what that is.
---
About the author: Mik Milman is an event photographer who specializes in documenting authentic moments and interactions. The opinions expressed in this article are solely those of the author. Milman has been working in Los Angeles for over 10 years. You can find more of his work on his website, Instagram, and YouTube. This article was also published here.