This is a 7.3-Gigapixel 'Timelapse' of London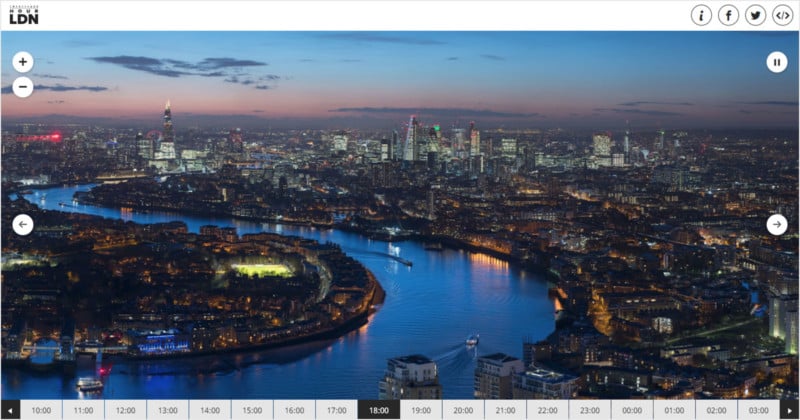 The UK contact lens retailer Lenstore has released a 7.3-gigapixel "timelapse" of London. Titled 24 Hour London, the images show a view of England's capital city over a period of 24 hours in February 2018.

TechRadar reports
that the project was a collaboration between Lenstore, photographer Henry Stuart of
Visualise
, Nikon, and
Canary Wharf Group
.
24 individual 7.3-gigapixel (7,300MP) photos were created for each hour of the day using a total of 6,240 photos that were shot with the help of a robotic mount and then stitched together to form the larger ultra-resolution shots. When played through, the 24 photos form a one-of-a-kind "gigalapse" that shows a day passing in London with a ridiculous amount of detail.
Stuart shot the photos with a Nikon D850 and its 45-megapixel full-frame sensor paired with a Nikon 300mm f/2.8 lens, TechRadar reports. This camera kit gave each individual photo a great deal of reach: you can read the words on signs located 5 miles away.
Here's the resulting 24-photo timelapse that you can explore through an interactive viewer:
Lenstore also posted this video that transitions through the photos at a faster pace:
You can also view the project through its official interactive viewer at a larger size on its official website.
---
Update: This article originally stated that this project is the first gigapixel timelapse. We have since learned that Carnegie Mellon University's CreateLAB created a GigaPan Time Machine back in 2010 that produced actual timelapse videos that can be panned and zoomed as the they play. We apologize for the error.