Rock Star Kicks Female Photographer in the Face During Show
Queens of the Stone Age musician Josh Homme is at the center of controversy this week after he was caught on camera kicking a female photographer in the face in the middle of a concert in Los Angeles this weekend.

Photographer
Chelsea Lauren
was photographing the concert from the edge of the stage on Saturday night while Homme was performing a guitar solo. As Homme walked past Lauren, he kicked his leg out at her, smashing Lauren's camera into her face and knocking her to the ground.
Lauren later shared a video of the incident on her Instagram account, writing: "I now get to spend my night in the ER. Seriously, WHO DOES THAT?"
"Josh was coming over and I was pretty excited," Lauren tells Variety. "I saw him coming over and I was shooting away. The next thing I know his foot connects with my camera and my camera connects with my face, really hard.
"He looked straight at me, swung his leg back pretty hard and full-blown kicked me in the face. He continued performing, I was startled, I kind of stopped looking at him, I just got down and was holding my face because it hurt so badly."
Lauren actually captured photos of Homme in the act of kicking her, which she shared on Instagram afterward along with an update on her status.
After the video and photos spread online, the 44-year-old Homme issued an apology to Lauren through the Queens of the Stone Age Twitter account. Homme claims that the kick was accidental and that he was simply trying to kick over the lighting and equipment that was on the stage.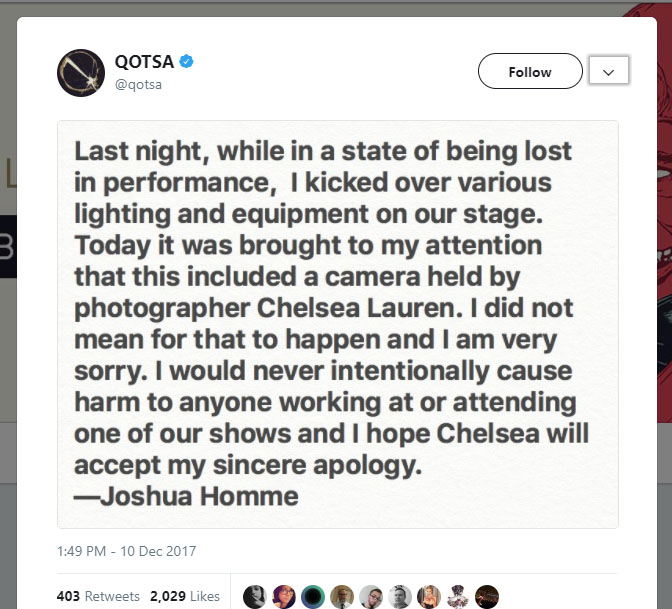 When that "apology" didn't go over well, Homme tried again in a new emotional video apology on YouTube.
"I'd just like to apologize to Chelsea Lauren," Homme says. "I don't have any excuse or reason to justify what I did. I'm truly sorry and I hope you're okay. I've made a lot of mistakes in my life, and last night was definitely one of them."
---
Update: Photographer Tanya Voltchanskaya writes that she received a warning from Queens of the Stone Age back in 2014 that photographers must not stand in front of Homme during a show, and that those who do "will get a boot in the face."
---
Update: Here's the longer video of the incident, published by Consequence of Sound:
---
Image credits: Still frame and video from @chelsealaurenla