These are the Best Wildlife Photos of 2017
The prestigious Wildlife Photographer of the Year competition is now in its 53rd year, and this year's edition saw nearly 50,000 entries from 92 different countries.

You've already seen a snapshot of
some of the finalists
, but last night the winners were announced at an awards ceremony in the Natural History Museum in London, UK.
There are 13 categories in the competition, with 2 overall prizes: Wildlife Photographer of the Year, and Young Wildlife Photographer of the Year. Without further ado, here are the awarded images this year:
Wildlife Photographer of the Year Winner
The winning image, taken by South African photographer Brent Stirton, is sure to shock more than a few people, but it's an image that will hopefully make a real difference to the plight of the black rhino. An animal which is listed as critically endangered on the IUCN Red List, the black rhino needs all the public attention it can get.
Taken as part of an undercover investigation into the illegal trade in rhino horn, Brent's winning image tells the evocative story of one of the trade's latest victims – a black rhino bull from South Africa's Hluhluwe Imfolozi Park. The poachers responsible are thought to have come from a local community, working to order. After entering the reserve illegally, they ambushed the rhino at a waterhole, shooting it dead before fleeing from its mutilated body.
"To make such a tragic scene almost majestic in its sculptural power deserves the highest award. There is rawness, but there is also great poignancy and therefore dignity in the fallen giant," said competition judge, Roz Kidman Cox. "It's also symbolic of one of the most wasteful, cruel and unnecessary environmental crimes, one that needs to provoke the greatest public outcry."
"Brent's image highlights the urgent need for humanity to protect our planet and the species we share it with," said the director of the Natural History Museum, Sir Michael Dixon.
Young Wildlife Photographer of the Year Winner
Animal Portraits
Peter Delaney, Ireland/South Africa
Behaviour: Invertebrates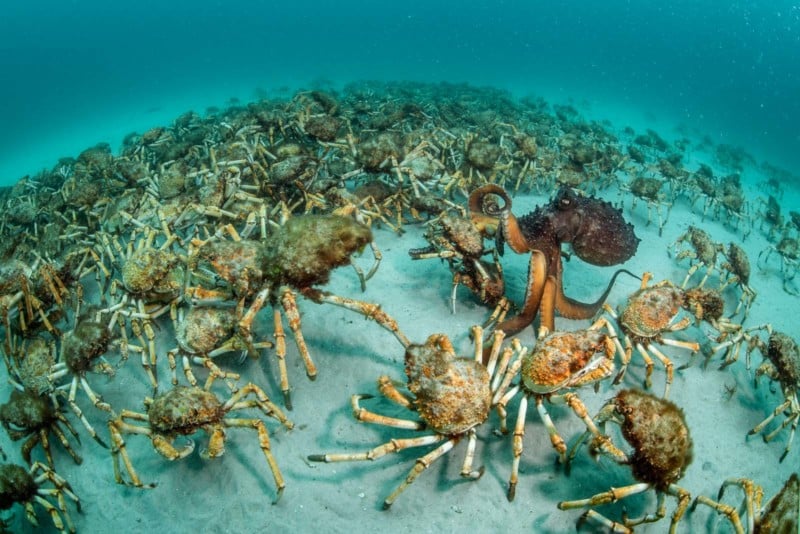 Justin Gilligan, Australia
Behaviour: Birds
Behaviour: Amphibians and Reptiles
Brian Skerry
Behaviour: Mammals
Tony Wu, USA
Earth's Environments
Laurent Ballesta, France
Animals in Their Environment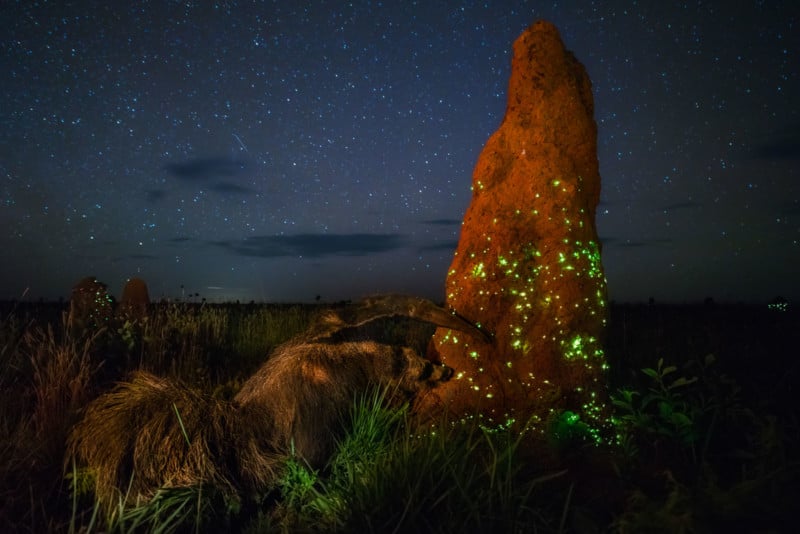 Marcio Cabral, Brazil
Black and White
Eilo Elvinger, Luxembourg
Plants and Fungi
Dorin Bofan, Romania
Underwater
Anthony Berberian, France
Wildlife Photojournalist: Single Image
Aaron 'Bertie' Gekoski, UK/USA
11-14 Years
Ashleigh Scully, USA
10 Years and Under
Ekaterina Bee, Italy
---
The exhibition will open on October 20th, 2017, at the Natural History Museum in London, UK, and will run until May 28th, 2018. You can get tickets on the NHM website.
The next competition opens for entries on Monday 23rd October 2017 — more information is available on the competition website. Wildlife Photographer of the Year is developed and produced by the Natural History Museum, London, UK.