How to Turn a Boring Vacation Photo Into Something Awesome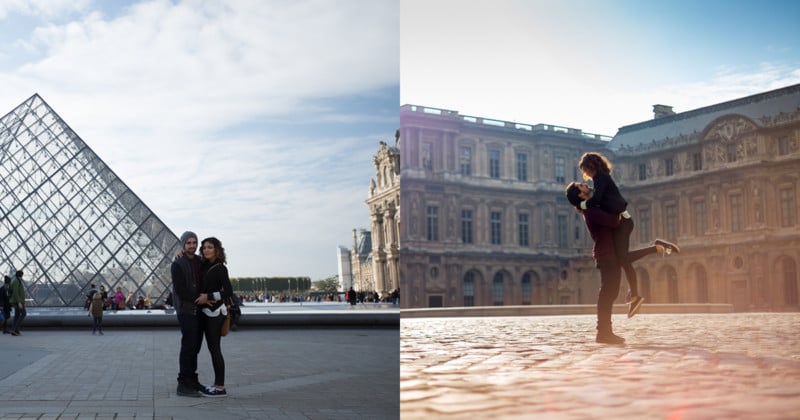 It's summertime and everyone is on the move all across the globe. One thing we want to hang on to is our vacation photos. They're what we share with all our friends on social media and the one thing we hold on to for the rest of our lives. Here is how I took a boring vacation photo and turned it into a unique and memorable image.
Last year, my girlfriend Amanda and I took a trip to London and Paris for her birthday. Since we're both always shooting photos wherever we go, we rarely get images of us together when we travel (plus my mom gets mad when we don't have pictures to show her). So we started making it a trend to get at least one epic photo together throughout each of our adventures.
During our visit to Paris, we went to world famous Louvre Museum while it was drizzling outside. When we were done walking around, we got outside just as the rain had stopped and we were finally able to get a shot together in front of a landmark. As expected, it quickly got crowded around the iconic glass pyramid and I was discouraged to get a nice photo in a tacky fashion.
As many other tourists tried taking the same photo you've seen a million times, I set up my camera on a Gorillapod with a self-timer and here was the first and only shot we tried to get at that location:
As you can see, Amanda blinked during the photo and I didn't even bother reshooting it since I wasn't happy at all with what we were doing. There are tons of people in the shot, the lighting is terrible, we look corny, it just wasn't working. This is more or less what a typical vacation photo would probably look like.
So, we walked around some more and ended up in the courtyard of the palace which was deserted. Everyone is so set on the glass pyramid that they completely overlook this huge, amazing place only a few feet away.
The sun started peeking out from the clouds so I got my camera on the Gorillapod in the corner of the courtyard, away from people, and set it up to shoot directly into the sun to create this cool lens flare. Amanda came up with the idea of me picking her up which added a dynamic quality to the photo in comparison to how we started out.
I wanted to shoot wide open at f/1.4 and it was so bright shooting directly into the sun that I needed to use an ND filter to compensate. There were only a few people far in the background so it was easy to clone them out of the image and make it look like we were the only ones there.
This is a drastic improvement from our original photo and just goes to show you that your photos can easily stand out just by looking away from the obvious. We literally walked 50ft away from where everyone else would think to shoot their Louvre images and got something completely unique.
Here is a BTS iPhone shot Amanda took of me making a silly face while setting up the camera:
I would love to see your unique vacation photos at popular landmarks all around the world and see your take on them. Feel free to share them in the comments!
---
About the author: Austin Paz is an NYC-based photographer, cinematographer, blader, drummer, and traveler. You can find more of his photography on his website or by following him on Instagram and Facebook. This post was also published here.