A Sad Tale of Photographing in Yellowstone
I just got back from a trip to Yellowstone National Park to test out the Nikon D500, Nikon D5, and Pentax K-1 DSLRs and I wanted to share my experience, specifically my frustrations with visiting and photographing this amazing location, which has been my top spot for many years for photographing both wildlife and landscapes.
I spent a week in Yellowstone and my original plan was to stay there for longer if needed, depending on how much wildlife I would encounter. But I had to cut my trip short, because I was just getting tired of seeing the same behavioral patterns of park visitors over and over again—to the point where it was just getting absurd, abusive and downright stupid.
First of all, I like visiting Yellowstone for two reasons—one is to see and photograph the amazing wildlife the park offers to see such as wolves, black and grizzly bears, antelopes, sheep and many species of birds including birds of prey such as owls and eagles. The other reason is to photograph the stunning landscapes that include geysers, streams, rivers, mountains and colorful canyons.
My intention for this trip was to photograph both, since my camera gear covered everything from wide to super telephoto. While Yellowstone typically attracts large crowds for its wildlife, many visitors also love the park for its other rich photographic opportunities, so you will find a great number of people in all areas of the park, especially once the travel season kicks in.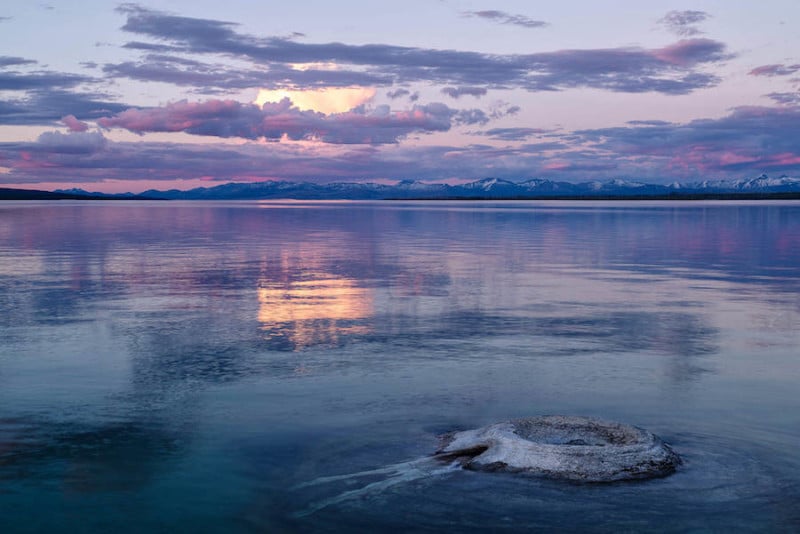 Speaking of the travel season, this year the travel season in Yellowstone started really early. According to park rangers and other sources, the park experienced a heavy increase in the number of visitors—anywhere between 20-30%, which is a lot!
Part of the reason is cheap gas prices, which allowed many Americans to take road trips and visit the park, but the other reason in my opinion is the visibly larger attraction of international tourists. In fact, having visited the park a few dozen times, I have never seen this many tour buses in May. They usually start pouring into the park in the summer during peak season, but boy, things were quite different this time around. Hot spots like Old Faithful and Grand Prismatic Spring were simply overcrowded. This might be good for the park, but it does present a few challenges for the park rangers to make things manageable.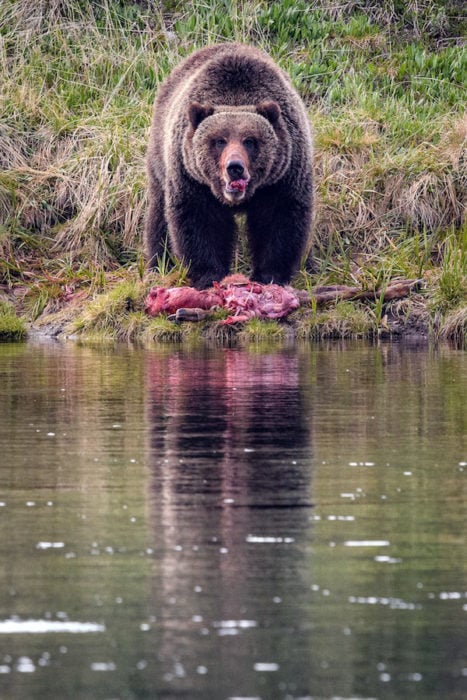 My biggest frustration with photographing wildlife was the literal harassment of wildlife by the park visitors. I can understand folks who want to take a closer look at bears, wolves, bison, moose and elk, as long as it is done with respect to park rules.
Yellowstone is one of those places where you will find numerous signs about wildlife being dangerous and guidelines on how close one can get are clearly specified in park maps and ranger-led programs. However, despite all the warnings, people seem to not care. What's worst, is that by doing so, they endanger their very own lives.
The recurring patterns are pretty much the same all around: people approach both elk and bison at extremely close distances for those precious selfie moments. Aside from large tour buses making stops by bison herds, there is also a smaller fleet of vans, which can offload 15-20 people almost instantly at any location that offers a good view of wildlife. People get off from tour buses and literally rush in to take pictures with their cellphones and cameras, since there are so many of them. And they all must have that one picture of them and the bison right behind. And with each tourist, it seems like they get closer and closer, since the mentality is: if the beast did not attack the last tourist, it must be tame!
I watched a flock of Chinese tourists with their selfie sticks posing literally right next to a large bull lying on the ground. Some of them got as close as 5-8 feet, which is just insane. It seemed that given the chance, they would literally climb on the bison for those pictures.
And forget about the 100 yard (91 meter) park requirement for watching bears. If it was not for park rangers, the number of bear attacks would surely sky rocket! To see what bears can do to people when they are too close, have a look at this page please. Park visitors armed with a kit 18-55mm lens or their cellphones take desperate measures to capture images. On one occasion, I watched a group of people get charged by a black bear since they got too close to make the bear uncomfortable. Gladly, the bear only charged for a very short period of time to warn the picture-hungry tourists, but after they all ran back, all I heard was laughter—they found running away amusing and fun. The words "natural selection" flashed in my head for a short moment, if one of those idiots got mauled for real…
On another occasion, I stopped on the side of the road after spotting a black bear, laying literally right next to the road—probably around 25-30 feet away. I lowered my window and took this picture:
Yes, that's a black bear sow that I could not even fit in the frame of the Nikon D500 with the 300mm f/4 VR @ 420mm (1.4x TC). At such a close distance, there is no way in the world I would be getting out of my car.
But pretty much as soon as I stopped my car, I watched a van full of teenage girls pull over right in front of me. About 10-12 of them came out with their iPhones on their hands, ready to take pictures. They all got in front of my car to take pictures, getting as close as they could. Within the next few minutes, it was impossible to leave the area, because the road was blocked on both sides with heavy traffic. People were stopping their cars on the middle of the road, getting out to take as many pictures as they could and as close as they could.
It turned out that the bear was a sow, trapped under a tree where two of her cubs were. Thankfully, a park ranger showed up shortly after and forced people back into their cars and cleaned up the traffic. I observed similar situations a number of times in the park, since bears were hungry and very active in May and early June, after the long and cold winter.
After more or less giving up pursuing wildlife, I moved on to photographing some landscapes. And while I enjoyed the process much more due to the fact that I did not witness nearly as many similar situations, I did get surprised by how badly visitors treat the park. It was pretty sad to walk on the boardwalk of the Grand Prismatic Spring to find plastic cups, plates and other junk everywhere. While I understand that things like baseball caps often end up landing in all kinds of places due to strong wind, seeing food items, newspaper, cigarette butts and other junk like umbrellas in both Grand Prismatic and Excelsior Geyser was quite disappointing, since those are not easy to clean up.
When photographing the Morning Glory Pool, I was quite shocked to see footprints all around the pool, despite the big sign on the boardwalk that says "Fading Glory", explaining how the tourists trashed the pool and threw all kinds of junk into it (there is even a picture of the clean-up process there). Despite the park efforts, people are still trashing this beautiful pool by tossing coins into it, or exploring and photographing the pool up close:
Very sad indeed and this is not just happening in Yellowstone—similar behavior can be observed in many other national parks and landmarks all over the world. If we don't work on preserving our national, state and other public parks, we will have nothing to leave for our future generations. Please photograph responsibly and discourage the destruction of all world landmarks.
Thank you!
---
About the author: Nasim Mansurov is a professional photographer based out of Denver, Colorado. He is the author and founder of Photography Life, along with a number of other online resources. You can see more of his work on 500px, Google+, and Facebook. This article was originally published here.