How Facebook is Stealing Billions of Video Views
In a Nutshell created this 5-minute video that offers a simple explanation of the problem of "freebooting" on Facebook, when copyrighted videos are ripped from other sources (mostly YouTube) and uploaded to the service without permission. The videos then go viral, gaining attention for the uploader and ad views for Facebook, but leaving the original content creator out in the cold.

Facebook recently announced that they reached 8 billion video views per day. In the first quarter of 2015, however, 725 of the 1000 top videos on Facebook were stolen from YouTube, and those videos accounted for 17 billion views. Facebook also gives preferential treatment to stolen videos uploaded to its service over links to outside content.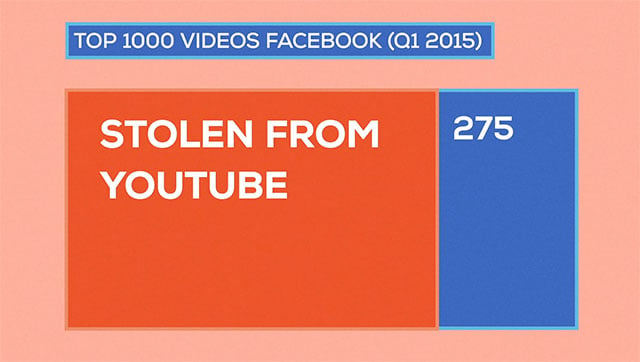 "This number is made out of lies, cheating and worst of all: theft," writes In a Nutshell. "All of this is wildly known but the media giant Facebook is pretending everything is fine, while damaging independent creators in the process. How does this work?"
Destin Sandlin, whose YouTube channel SmarterEveryDay has 3.3+ million subscribers, also spoke out against Facebook freebooting back in January:
Photographers widely experience the same types of copyright infringement online, when viral photos are uploaded without permission or attribution to sites such as Facebook, Imgur, and Reddit.