Portbox: A Photographer and Model Networking Site that Pre-Screens Users
Model Mayhem has been leading a successful existence by being one of the web's most popular destinations for professional models and photographers to connect. Now there's a new contender, Portbox, and they have their sights dead-set on creating a more professional network where all applicants are pre-screened for quality.

In addition to having an 'invite-only' system for vetting its members, the service also boasts precision searches and a global network of members.
The website's built-in hassle free booking system allows photographers and models to easily plan their projects, while an automated scheduling calendar ensures that conflicts don't occur on either end. The site even allows for detailed listings of 'Time for Print' (TFP) and paid shoot information.
If you are interested in becoming a member of Portbox, you will have to apply through their site's application system. If you apply, you will be asked to submit your existing portfolio for review. The company notes that "your portfolio must show a strong professional interest to work with models/photographers in fashion, glamor, or commercial modeling photography."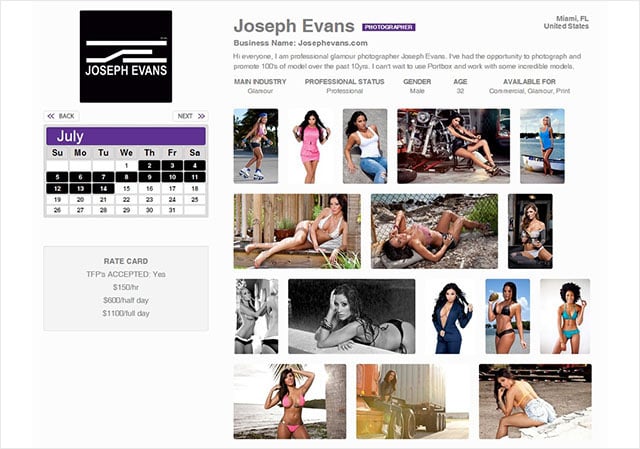 Once you are finally approved, you can continue to use the site for free with a limit of two photoshoot projects and six models per month. You may, however, accept unlimited bookings and display up to 50 portfolio images. In addition, free members cannot search other members by their availability.
The Elite and Pro plans continue to allow the same number of portfolio images and unlimited bookings, but with more projects and models per month. An Elite user can book up to 5 photoshoot projects and 50 models per month while a Pro user can book unlimited photoshoot projects and models.
For detailed information on Portbox, you can check out their website by clicking here.
(via Fstoppers)