Paris Officials Ask Tourists to Ditch the 'Love Locks' and Take a Selfie Instead
Ever since 2008, lovers from around the world — about half of whom, statistically speaking, have probably broken up by now… — have pledged their eternal love to each other by attaching a lock to the Pont des Arts bridge and throwing the key in the Seine.
It's sweet. It's romantic. It's symbolic. Unfortunately, it's also starting to put an unacceptable strain on the bridge, and so Parisian officials are launching a campaign that seeks to replace love locks with a fleeting 21st century alternative: the selfie.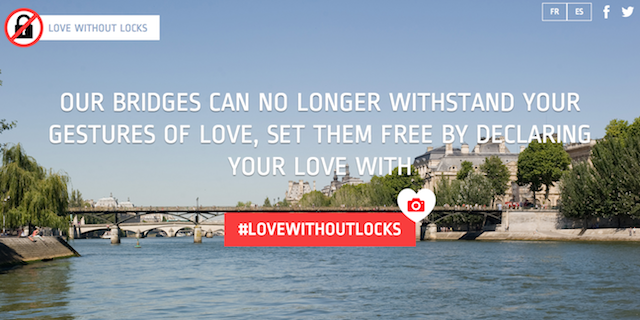 Speaking with the AFP, a city hall official told the agency that they will begin a campaign to stop the locks, offering selfies and a hashtag as an alternative.
Starting this Wednesday, red heart-shaped notices in English, Spanish and French will go up on the bridge asking lock-toting lovers to keep that lock in their pocket and instead, upload a selfie to lovewithoutlocks.paris.fr or to tweet it with the hashtag #lovewithoutlocks.
RT @Paris: Nos ponts ne résisteront pas à votre amour, remplacez vos cadenas par des selfies #lovewithoutlocks pic.twitter.com/XEvkYdGsb2

— Jean-François Guyot (@JFGuyot) August 11, 2014
Of course, whether or not people will respect the notices and accept this very fleeting alternative to a very concrete gesture of love is yet to be seen, but this is only the beginning of what the official called "a wider campaign."
(via Yahoo! News)
---
Image credits: Photograph by Ken & Nyetta