A Kind of You: Disturbing Portraits of Street Performing Monkeys in Jakarta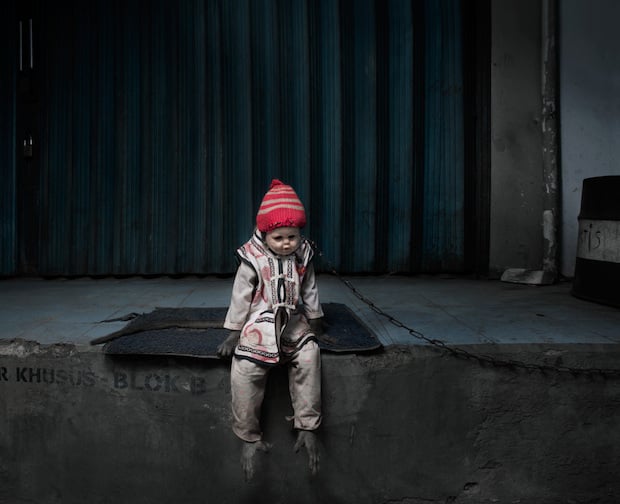 There are only a few words that adequately describe photographer Perttu Saksa's series A Kind of You. Many news outlets chose "haunting" and we decided to go with "disturbing," but we could have just as easily have characterized them as "gripping."

Because that's what these portraits do, they grab on to you and force you face-to-face with a kind of animal cruelty you might not otherwise have known existed.
A Kind of You is a documentary series that captures the lives of street performing monkeys in Jakarta. These monkeys are dressed in children's clothes and dolls' masks, trained to act human-like, and then sent out onto the streets to beg for money.
In Saksa's words: "Modern city culture has turned the old tradition into [an] eerie and haunting act of cruel street theatre where animals become something else, never able to reach our expectations."
Like a few others, we contacted Saksa for permission to share these photographs back in mid-October. He gave us permission, however he also asked that we hold off until after Halloween when Time Magazine will have already published its coverage of the series.
Halloween has come and gone, and this News Editor has finally found the time to share these photographs with you. So here they are — haunting, disturbing, gripping visual reminders of a cruel reality:
If you're upset by the conditions these photographs depict, you're not alone. But there's also some cause to celebrate: this kind of cruel treatment might not happen for much longer.
According to the Time article, Jakarta has made the ownership of monkeys a violation of a criminal code on animal abuse. And in mid-October, the capital's governor announced a cash incentive for handlers to release their monkeys from captivity.
To see more of Saksa's work, you can head over to his website by clicking here.
---
Image credits: Photographs by Perttu Saksa and used with permission.