Photographer 'Shops His Baby Daughter Into Strange Situations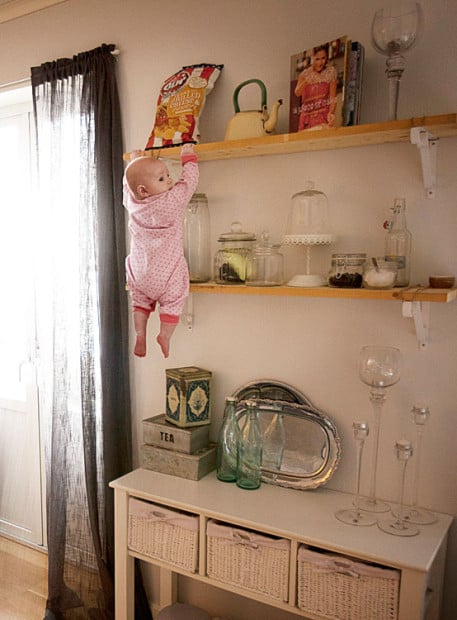 When Emil Nyström's daughter Signhild grows up, she'll have a number of baby photos showing how adventurous she was as an infant. Since Signhild was less than 1, Nyström has been creating whimsical conceptual photos of the girl in strange situations.

The Umeå, Sweden-based photographer uses clever photography and careful Photoshop work to create the images, which show Signhild doing everything from painting a room in their house to chopping flying fruit as the Fruit Ninja.
Nyström tells us that his ideas come from places at different times. For example, the painting photo above came about when the family decided to have one of their rooms repainted. Shooting the photo involved holding Signhild up and then digitally removing the supporting arms:
The photographs in the series were shot using a Canon 5D Mark II, Canon 16-35mm f/2.8, and Sigma 50mm f/1.4.
Here's what he tells us about shooting the actual photographs:
When shooting a baby like mine, I have to prepare a lot before I shoot, since she is usually not very keen on long working hours. If I get 15 engaged minutes, I've had it good. So lights, settings, scenery have to all be in place. Once the baby is on scene, I have to try getting the right facial expression and all the right poses as quickly as possible. Usually I get help from my wife with it. Sometimes when it's more elaborate we have to have even more people helping. Other then that, there is usually not many problems with these types of shots.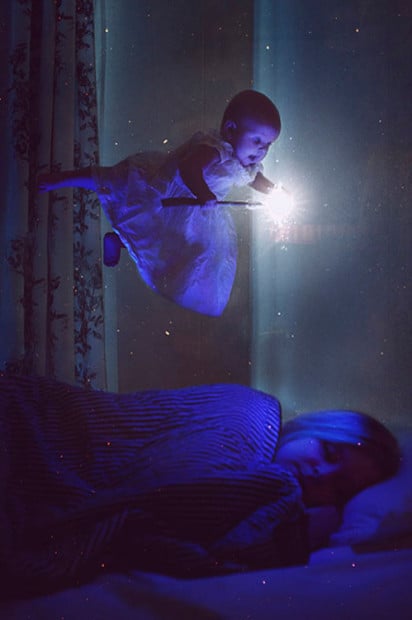 You can find larger versions of these photographs over on Nyström's website.
(via Phlearn via Laughing Squid)
---
Image credits: Photographs by Emil Nyström and used with permission