Shooting a Macro Photo of Sparks Flying Off a Lighter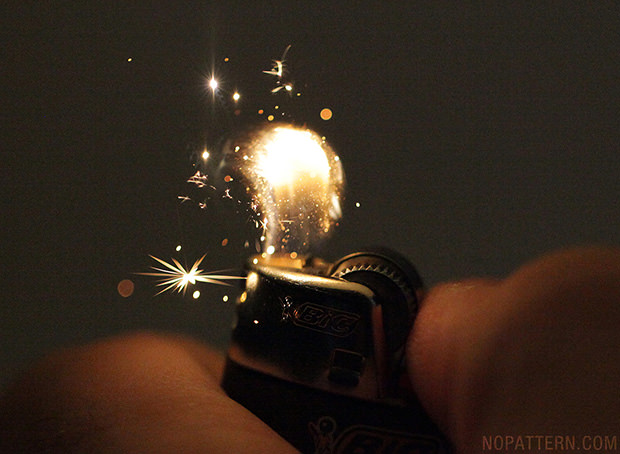 This photograph by artist Chuck Anderson has received over 30,000 notes on Tumblr since it was posted back in September of 2010. It might look like a Photoshop creation, but Anderson assures us that what you see is straight off the camera.

He writes,
The lighter photos were taken with a Canon 5D Mark II and a Canon 100mm f2.8L Macro lens. The shooting mode was set to multi-shot, the shutter speed set to 1/8000 and the aperture at f2.8 with the ISO cranked up to 6400. I focused on the top of the lighter, started shooting, and flicked the lighter multiple times. Generally I would get about 5-6 shots of nothing and 2-3 shots of lighter action in every sequence. No tripod, flash, or light source was used. Camera was held in one hand, lighter in the other.

I took these after I got distracted from what I was supposed to be doing—taking pictures of all my work for the upcoming relaunch of http://www.nopattern.com. Several years ago I did a collaboration with 555Soul and Bic. I have a lot of lighters from that project and was shooting those when I thought it would be fun to take a picture of the lighter in action. So all the lighter shots I've posted happened quite spontaneously and I was lucky enough to get some pretty cool ones.

As I said, these were technically straight off the camera, however I did crop in on them so I could show more detail and add a watermark. Other than that they are exactly as they were in-camera.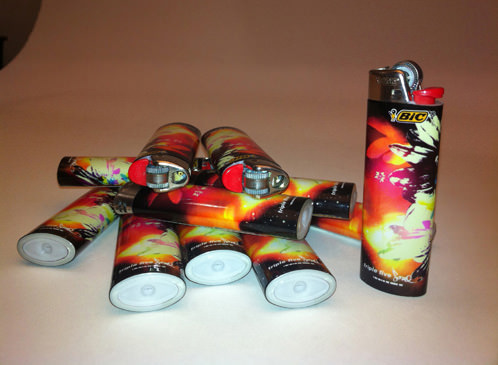 ---
Image credits: Photographs by Chuck Anderson and used with permission