11 Munny Makers' Photos We Love
Toymaker Kid Robot has a line of DIY toys called MUNNYs. They're pretty much cute humanoid-looking blobs that can be drawn, painted, and customized.
There are a couple of fun Flickr groups dedicated to these decorated darlings. We found some gems that deserve some love and attention–photographing a MUNNY can get a little funny. It's like photographing artwork, a product, and an environmental portrait, all in one!
Here are some of our faves:
CMYK Munny Series by Connor Keller | fourtysixtyphoto.com
A clever nod to color modes, this CMYK Munny is simple but vibrantly sweet.
Gorilla Munny by Aiden O'Sullivan
Flickr photog Aiden O'Sullivan captured this fierce Gorilla Munny in his natural environment.
Munny Calavera by Kitt Walker
We've never seen such a suave skeleton. This Munny was inspired by the Grim Fandango PC game character, Munny Calavera.
Custom "Brain" Mini Munny by Aidan O'Sullivan
Munny AND brains, you say? This Munny is a little creepy, and brings to mind (haha) Syler from Heroes. Or Hannibal Lecter. In either case, weird, but kind of rad.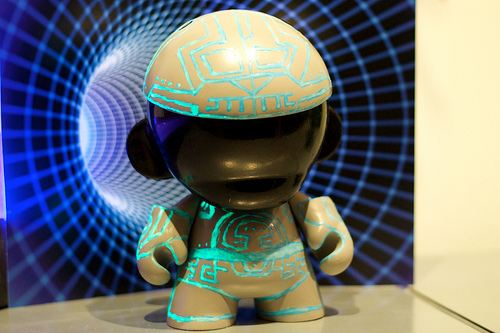 Munnys by benwatts
A Tron Munny! With better special effects than the early 1980s!
Munnys by benwatts
Here's another Munny by Flickr Munny maker benwatts. It's reminiscent of the Borg from Star Trek, but a bit more organic. It's almost as if he raided both my grandma's couches for that fabric. We like how he has a Minolta lens as an eye. He must have a photographic memory.
TK-22 Makes a New Friend by chanchan222
Domo-kun Munny and his pal meet Star Wars — it's like a collision of fandom imagination.
Munny by Derek Purdy
This Munny looks like a guy who can take care of himself. Though he's only adorned with a classy fedora, this Munny photo has a film noir ambiance.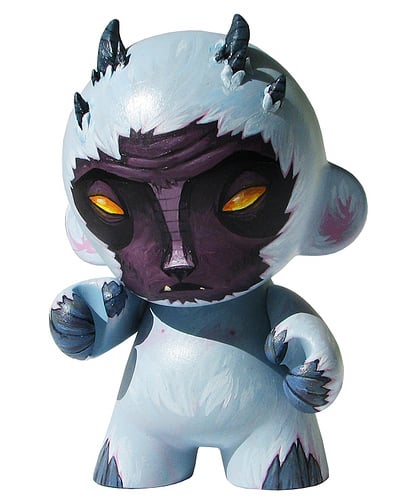 week_04_03 by O*GE InteractiveGallery – Gaston
Here's a monster Munny that looks like the abominable snowman, but less abominable. I mean, look at that wittle paws and those itty bitty teeth!
MU001 by De Tuesday
This Rorschach Munny is based on Alan Moore's graphic novel, Watchmen. While he's not the cutest of the bunch, he definitely captures the raw, nihilistic spirit of the character!
Blu Spy Munny by Dan Diemer
Based off the video game, Team Fortress 2, this spy Munny is dressed to kill.
To see more, check out these Munny Flickr pools:
---
Do you have a favorite Munny picture? Send us a link!