Turning Every Frame from a Concert Into a Timelapse of the Show
What would it look like if I made a timelapse out of every single picture that I captured during a concert? I had occasionally been toying with this idea since I saw a wedding timelapse by photographer Kevin Mullins a while ago.

I recently documented two concerts in a row for Denmark's best live band, The Minds of 99. I worked for the band and had full access during the shows, so this was the perfect opportunity. I took every single picture from the first of the two shows, minus all the backstage photos, and turned 90 minutes of concert into just over 3 minutes of timelapse video.
I actually only remembered the timelapse idea after the shows so I did not photograph them with the timelapse in mind. This was photographed in the way I normally cover a concert.
There are 1,564 pictures in this video representing every single frame from the 90-minute-long concert. I shoot mostly on single shot mode, except for during strobe lighting, so that is a shutter click roughly every 3.5 seconds.
I use Fujifilm cameras and lenses exclusively and I photographed this concert using Fujifilm X-T3 and X-T2 cameras with Fujinon XF16mm f/1.4 and XF35mm f/1.4 lenses. I was using both cameras at the same time with one hanging on each shoulder, so there are obvious jumps as I swap cameras, from the 16mm to the 35mm view and back again.
Other obvious jumps happen of course, when I go from stage to the pit, to the front of the building, to the balcony etc.
All photos were shot in RAW format. I applied a slight preset during import in Lightroom that just applied the Fujifilm Classic Chrome color profile and desaturated the strong colors that are present due to LED lights and haze. Just to make the images more viewable in this time-lapse.
There was no cropping and no other post-processing at all — everything else, including the exposure and white balance, is straight out of camera. Except for the few images in here that are part of my picks, those had been fully developed before I thought of the timelapse idea.
I shot the entire show on auto white balance and almost the entire show on auto shutter speed. I then use the exposure compensation wheel on the Fujifilm cameras to go from +3 to -3 or somewhere in between depending on what I want to expose for. The Fujifilm X-cameras keep up with mad changing lights really well, so this system works for me.
Finally, I then almost blew up my aging MacBook by exporting 1564 JPEGs and loading them into iMovie to create the timelapse! The exported movie was finalized with titles and soundtrack in Premiere Pro CC.
Nested in among those 1,564 frames are my fully processed picks from that night.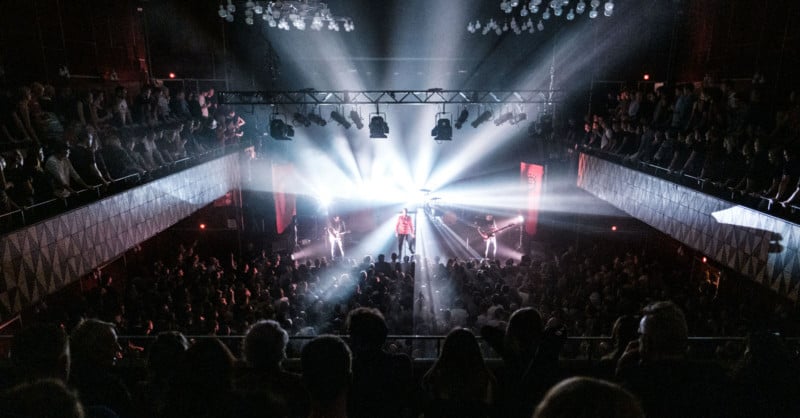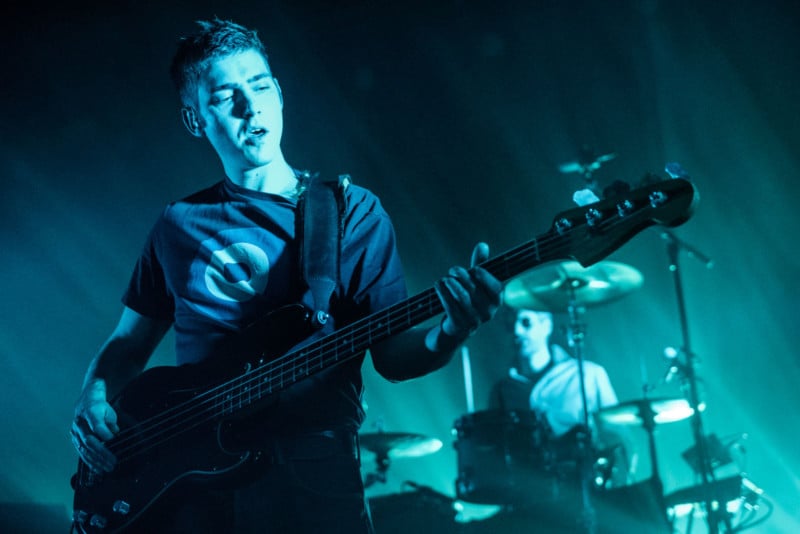 You can view my blog post with 50 selected and edited images from the 2 concerts. This way you get to compare and see what I picked out of the 1,564 stills (some of these 50 are from show number 2).
I have been a professional music photographer for seven years and am always looking for ways to improve and develop my work. Besides looking rather cool and being fun to put together, I was surprised by how useful this timelapse is for me. I can see clearly how I move and what I look for. If you are an event photographer I highly recommend trying this out.
---
About the author: Flemming Bo Jensen is a music photographer and Fujifilm ambassador based in Copenhagen, Denmark. The opinions expressed in this article are solely those of the author. Jensen works with the biggest festivals and artists in Denmark. You can find out more about him through his website and by following him on Facebook and Instagram.
---
Credits: Timelapse and photos by Flemming Bo Jensen. Soundtrack: 'Fuglebur' by The Minds of 99 and used with permission.