TIME's Latest Cover Photo is a Drone Photo of 958 Drones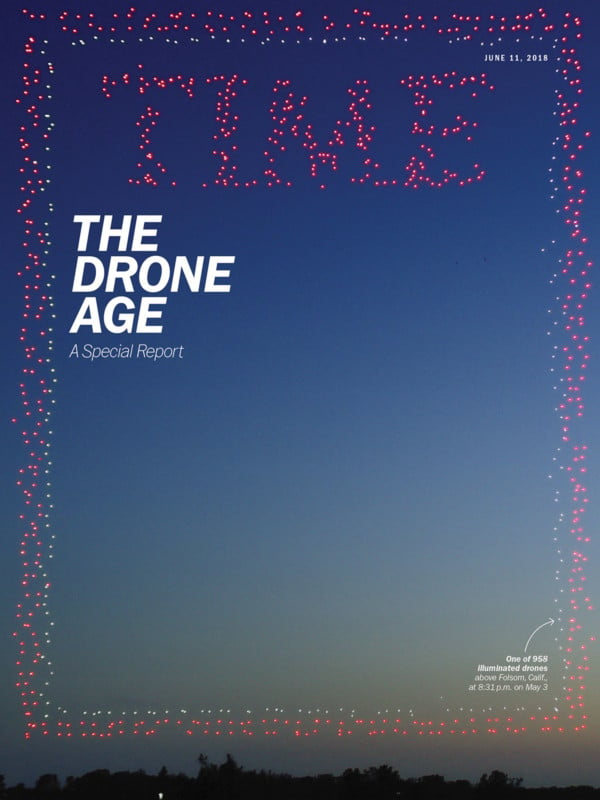 TIME magazine's latest issue is a special report on the rapid explosion of drones in our culture. For the cover photo, TIME recreated its iconic logo and red border using 958 illuminated drones hovering in the sky. It's the first-ever TIME cover captured with a camera drone.

To create the photo, TIME partnered with Intel's Drone Light Show team (which
creates beautiful sky displays
using hundreds of drones at a time) and
Astraeus Aerial Cinema Systems
to fly and capture (respectively) the 958 drones above Folsom, California (where Intel has a campus).
The project was one of the biggest drone shows ever done in the United States — it's a display measuring 100 meters (~328 feet) tall:
Here's a 13-second video in which a camera drone flies through the cover in the air:
And here's a 4.5-minute behind-the-scenes video showing how the one-of-a-kind photo shoot was done:
The display was actually filmed with a cinema camera on the Astraeus-flown drone, and the cover photo was a still frame extracted from the footage.
The cover can be found on the June 11, 2018, issue of TIME, which will hit stands on June 1st.