Photos of the Colossal Duga-3 Radar System Built by the Soviet Union
Duga-3 is a radar system set up by the Soviet Union in the 1970s as part of the nation's anti-ballistic missile early warning system. Although official operations were ended in 1989, the gigantic antenna of the original Duga-3 still dominates the countryside near Chernobyl, Ukraine.
Photographer Peter Franc recently traveled to Ukraine to see and photograph the radio transmitter.

The towers are incredible feats of engineering: the big ones measure 479 feet tall and spans a length of 2,460 feet (nearly half a mile).
"Access to it has only been granted as of a few months ago," Franc tells PetaPixel. "They're tearing it down later this year, because all the metal is quite valuable to the ailing economy."
Most of the photographs he shot were closeup studies of the massive structure, its intricate details, and its dazzling patterns. "Unfortunately with the whole area being quite radioactive, it's was difficult to backpedal and get further afar," he says.
His goal with the shoot was to create a coherent set of photos that plays on the abstract nature of the array before they're gone forever.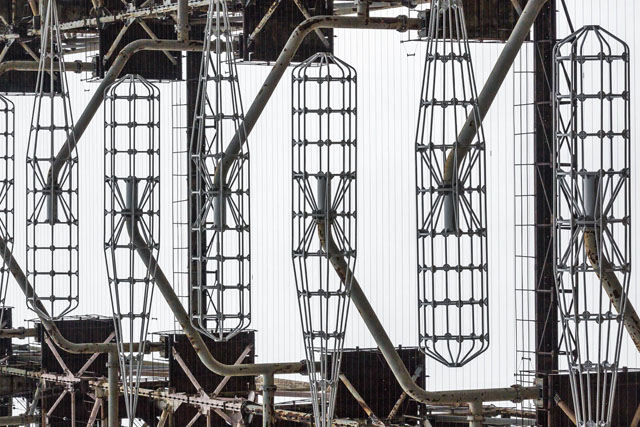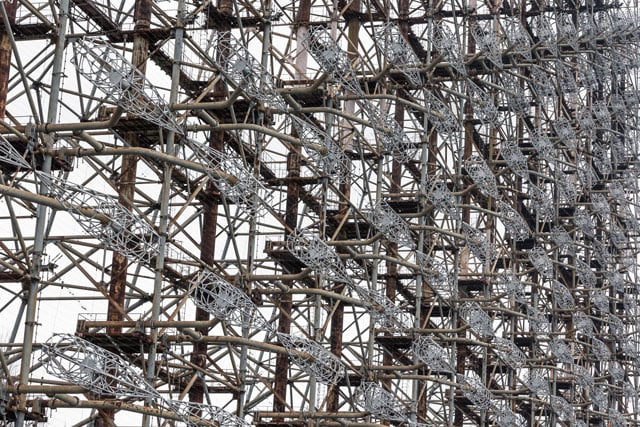 The set has also been published in a gallery on Franc's website.
---
Image credits: Photographs by Peter Franc and used with permission