I Was Hidden on This Guy's Hard Drive for Over 6 Years
This post was originally published on the Joey L. Blog and is being republished here with permission
---
It's been estimated that as many as 880 billion photos will be taken by the close of this year. I'm not quite sure how that statistic could ever be properly calculated, but I think it's safe to say that with the rise of the digital medium, human beings are taking a s**tload more pictures than ever before.
With all those photos being taken, chances are you and I have at one point accidentally wandered into someone else's frame. It's likely, however, that you'll never really know you've photo-bombed someones shot. That's why I was surprised by a Twitter message that I received out of the blue from a photographer I've never met.
Here's what I received from photographer Anthony Kurtz: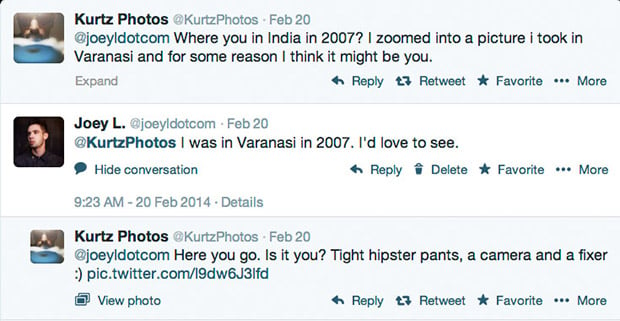 Varanasi, India is an epicenter for pilgrimages for people of many walks of life. Locals from all over the subcontinent make religious journeys to the ancient city; monks of a variety of religious beliefs seek refuge in the many temples along the Ganges River; and not to mention: photographers, travelers and tourists flock to the region to seek inspiration in what I consider one of the most photogenic places on Earth.
Looking at the photo from the tiny Twitter preview, it seemed like it could be me but how could I be certain? I'm not quite sure how Anthony recognized me, as we are only are aware of each other via social media. I asked him to send me the high-resolution version of the photo, and asked if he had any others taken in the batch. He then sent the following: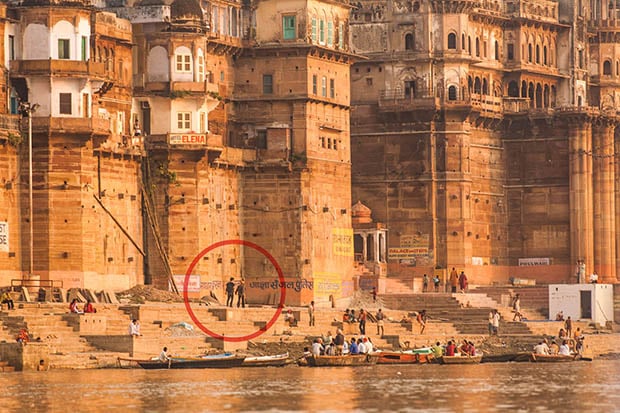 Here's a closer view:
Here's a closer view of several of Kurtz's exposures: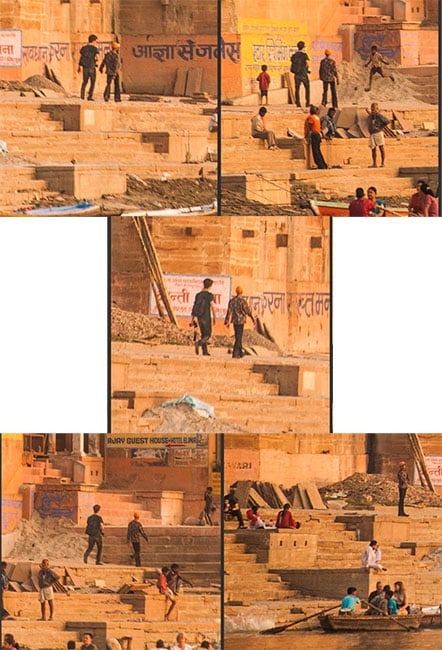 After zooming in to the photo I discovered that without question it was me. Looking at Anthony's image EXIF data, I saw the image was taken on October 18th, 2007. I am 24 years old now, so I was 17 in the photo. I also noticed in one of the photographs, it appears I am taking a photo of something. So, I looked through my own images captured that day, and found the exact exposure I had taken within seconds of his:
Here I am squatting and taking a photograph of two women overlooking the Ganges River:
Here's the actual photograph I was taking at the same time Anthony's exposure was made:
And the big kicker: in the background of my picture there are the boats of people photographing from the river. Which one is Anthony?
When something like this happens, it's hard not to evoke the tired cliché that the world is an incredibly small place. The world is shrinking even further with our growing level of interconnectedness on the Internet and social media, and this occurrence is an example of that.
I'm sure people have always been on paths that quietly and unknowingly intersect. Now, with people sharing their passions and experiences more than ever, we can be sure that we'll meet yet again — or sometime in the future — whether we know it or not.
---
About the author: Joey L. is a Canadian commercial photographer, director and published author based in Brooklyn, New York. See more of him through his blog, portfolio and video tutorials. He can also be found on Facebook, Twitter, and Instagram. This article originally appeared here.
---
About Anthony Kurtz: Anthony Kurtz is a German-American commercial and fine-art photographer based in Berlin, Germany. You can find his work on his website or by following him on Facebook and Twitter.