New Orleans Nightscapes: Beautiful Long Exposure Photos of NOLA Houses
Heartbreak and tribulation are never something we strive for. Yet, they're unavoidable byproducts of a life well-lived, that teach us lessons along the way.
In addition to those lessons, these struggles often produce inspiration out of a need for escape or expression. And it was such a need that drove New Orleans native Frank Relle into the welcome embraces of long exposure photography and the city he calls home.
After a romantic heartbreak following his freshman year in college, Relle and his best friend (who had recently been injured in a car accident), walked the streets of the Garden District in New Orleans, each recovering from their respective struggles.
While walking through the streets, taking in the scenery, the two would create stories about the houses they came across. Doing so, Relle said in an interview with The New York Times, "got me thinking about how you could use the house as a backdrop to the personality of those inside and get at the theater of their lives."
That little insight was the seed for a creative endeavor that would not come about until several years later, in 2004. After being fired from a plethora of jobs and returning home to New Orleans, one night, while teaching someone how to capture a long-exposure, something about the resulting image Relle saw on the back of his camera caught his attention.
He was hooked.
Combining his new-found creative outlet with his passion for using homes as a 'crystal ball' into the personalities of those who lived there, Relle started up "New Orleans Nightscapes."
Using his grandmother's Lincoln Town Car, he began driving around the streets of New Orleans capturing photographs using available street light and occasionally sneaking in a lighting rig when he could — plugging it into outlets outside the homes of sleeping residents.
Since then, he's stepped up his game, bringing his own lighting truck, asking permission from residents and even asking police to momentarily close down streets he's wanting to shoot on. And as you can see from the collection of images below, the results are well worth the trouble, both emotional and otherwise, that he's had to go through to capture them: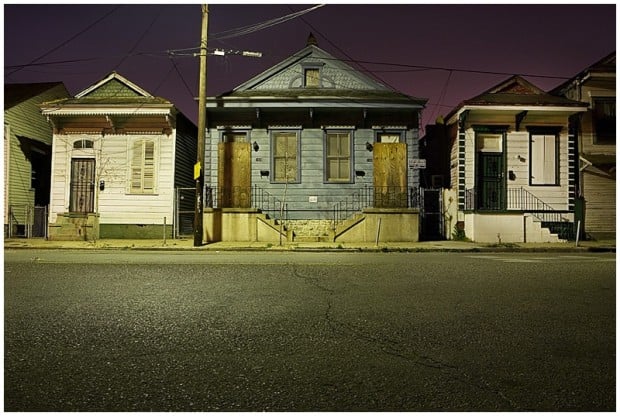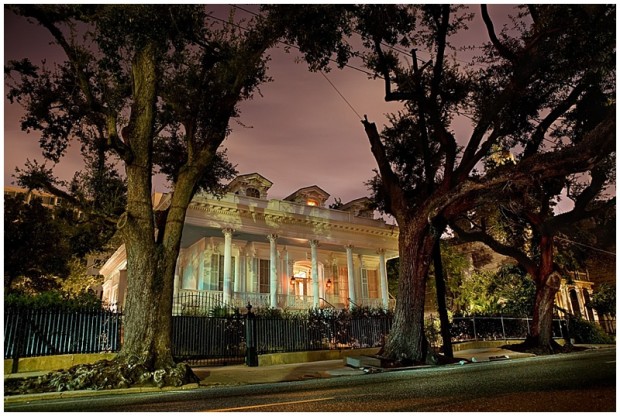 Unfortunately, the project almost ended as soon as it began. In 2005, Hurricane Katrina hit New Orleans hard, forcing Relle to head on up to New York to stay with his mentor, Chris Callis.
Feeling a bit distraught from the thought that New Orleans Nightscapes was going to end sooner than he had hoped, it took a conversation with Charles Traub, a professor at the School of Visual Arts, to give him a new perspective on the project. As he told The New York Times:
Charles told me: 'No, the story of those houses is just beginning. You've got to go back.' The hurricane actually extended the life of this project and my understanding of it as well. It broadened my view of New Orleans, taking me to places I had not been before.
According to Relle, the series strives to present a view of New Orleans few outsiders see. Rather than capturing the historical-ridden buildings and areas, he wants viewers to see the houses as a backdrop to the culture there, serving as a topic of discussion about the people that live there, how they got there, and why they stay.
"There are no people in my photos, but they are all character sketches of the people I grew up with," he explained, again speaking to The Times. "I want to make things that encapsulate that and are able to communicate that not in explicit terms, but giving people access and letting them create their own narratives."
The series is beautiful, and without a doubt captures what Relle is hoping to share with the world. Simple, long exposure photographs of houses that somehow contain profound insights about the people who call them home.
I'm sure he would tell you the inspiration behind it wasn't always fun, but it goes to show that, with the right amount of motivation and determination, the weakest moments in your life can become a turning point or footstool to your most impressive achievements.
(via The New York Times Lens Blog)
---
Frank Relle is currently curating a photography exhibit about Louisiana sponsored by the United States Embassy in Moscow. The show will open in mid-May at the Multimedia Museum House of Photography in Moscow.
---
Image credits: Photographs by Frank Relle and used with permission