An Interview with Richard Tuschman, the Photographer Behind 'Hopper Meditations'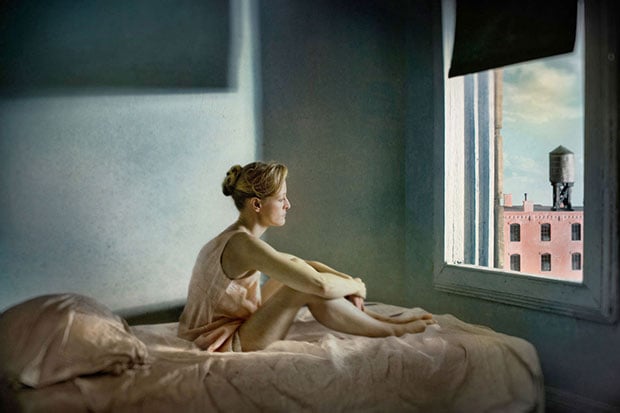 Richard Tuschman began experimenting with digital imaging in the early 1990's, developing a style that synthesized his interests in photography, painting and assemblage. His work has since been exhibited and published internationally and recognized by, among others, Photo District News, American Photography, Prix de la Photographie, Paris, and the International Photography Awards. He currently lives and works in New York City.
PetaPixel: First, Richard, tell us about your background in photography. When did it start for you?
Richard Tuschman: I suppose it started as a child looking at my parents' and grandparents' family photo albums. I have always been drawn to photographic images (who isn't?), but I have never had traditional photographic training and I do not possess traditional darkroom skills.
Until relatively recently, I would refer to myself as "an artist who uses photography" rather than "photographer," though now I am happy to use the label "photographer." When I went to art school at the University of Michigan back in the 1970's, I studied mostly printmaking, though I did a lot of photo etching and photo lithography. I only took one darkroom course, and I was not very good at it. But I always incorporated photography into my work, through photo printmaking or collage.
It was not until Photoshop was introduced in the 1990's that I had a "darkroom" that I felt comfortable with. I had been using a Macintosh for several years at my graphic design job, so Photoshop came naturally to me, and seemed much more analogous to painting and printmaking (which was good for me) than a traditional darkroom. After that, my career in photo-illustration took off.
PP: Who were the important teachers and mentors who have helped to shape your career?
RT: When I was in art school in Ann Arbor I studied with the lithographer Paul Stewart, and he was very good at pushing students to expand their aesthetic horizons, along with instilling a solid work ethic.
In terms of photographers at that time, the surrealism of Arthur Tress and the dreamy narratives of Duane Michals both strongly influenced me. When I began doing commercial work in the 1990's, I was looking a lot at painterly photo-illustrators like Matt Mahurin and Amy Guip. I was also drawn to the beautifully crafted and surreal conceptual work of Geof Kern.
PP: Your project "Hopper Meditations" is an uncanny collection of images directly inspired by the work of seminal American painter Edward Hopper. How do you connect with his work, and what prompted you to make these images?
RT: I wanted to do a series of staged figurative narratives, something I could sink my teeth into. I have always loved the way Hopper's paintings, with an economy of means, are able to address some of the psychological mysteries and complexities of the human condition. I love the humble nature of the works and their sense of quietude. The characters' emotional states can seem to waver paradoxically between reverie and alienation, or perhaps between longing and resignation. I also liked that many of them seem to be set in New York City, which is my favorite city, and where I live.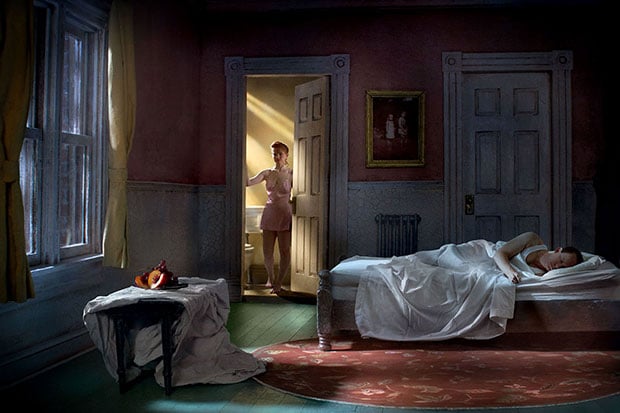 PP: The bulk of Hopper's work was created in the early 20th century. What about his personal vision still resonates today?
RT: First of all, the period in which he made the paintings resonates very much with me. Though it is a generation or two before my time, in many ways it feels very familiar, from all the time I spent as a child poring over the family photo albums. So, for me, it has the right balance of strangeness and familiarity.
But also, their sense of humanity, and the themes they evoke — solitude, alienation, longing — are timeless and universal.
PP: The technical properties of this work are outstanding, and from lighting to set design it seems like you had a great team to make this project come to life. Talk a bit about who they are and the role they played.
RT: Well, thank you! And let me thank my two wonderful models, Aria McKenna and Ariel Kleinberg, and my terrific hair stylist and makeup artist, Falon McKinney. That is the team.
The sets are all painted dollhouse size dioramas that I built and photographed in my studio. A lot of the furniture is standard dollhouse furniture, but some I made myself. I photographed the models against a plain backdrop, and then made the digital composites in Photoshop.
PP: I'd like to hear more about the technical aspects of these images, was there a lot of post-production involved? Do you consider digital production a specialty of yours?
RT: First, let me give you a little background. The idea of digitally marrying dioramas and live models brings together a few of my different working methods from the past thirty odd years.
When I first moved to New York after art school around 1980, one of my first jobs was working in an architectural supply store. The model building materials there inspired me to make a series of miniature "stage set like" box constructions. The tone of these was surreal, and a human presence was often suggested by collage or painted shadows, or sometimes an actual painted clay figure. I worked this way for most of the 1980's.
As I mentioned previously, the introduction of Photoshop in 1990 launched my (ongoing) career as a digital photo-illustrator. So yes, I would consider digital production a specialty of mine. I began seriously photographing live models several years ago for my book cover assignments.
In terms of post-production, as much as I love Photoshop, I do not want to spend any more time there than necessary. Silhouetting can be time consuming, but other than accurately scaling and placing the figures, the image is largely done by the time I get to post-production, at least if I have done my job right so far. Sure, there is the tweaking of the contrast and colors, maybe I'll have to paint a shadow or two, and I will retouch some seams in the diorama. But the guts of the image are determined before the digital stage.
When I photograph the dioramas, I always take some shots with small artist mannequins as placeholders for the live models. This helps me tremendously in matching the lighting. The lighting for both the dioramas and the live models is sometimes continuous hot lights, and sometimes speedlight strobes. I try to make the most of the sessions with the models, so for this project there was just one shoot with Aria, and one shoot with Ariel.
PP: The emotional tones you set do closely mirror the senses of loneliness and solitude that Hopper expressed in his paintings. You also mention Rembrandt as an inspiration to the chiaroscuro lighting effects you've utilized. Are there any other artists out there who've directly inspired this project?
RT: Yes, I love vintage photography, too, so I would include people like Julia Margaret Cameron and E.J. Bellocq.
PP: As a follow-up, what other photographers working today inspire you in general?
RT: Paolo Ventura and Lori Nix for their diorama work, the figurative work of Hellen Van Meene, Hendrick Kerstens, Richard Learoyd and Jayne Hinds Bidaut, and of course, the incredible staged images of Gregory Crewdson.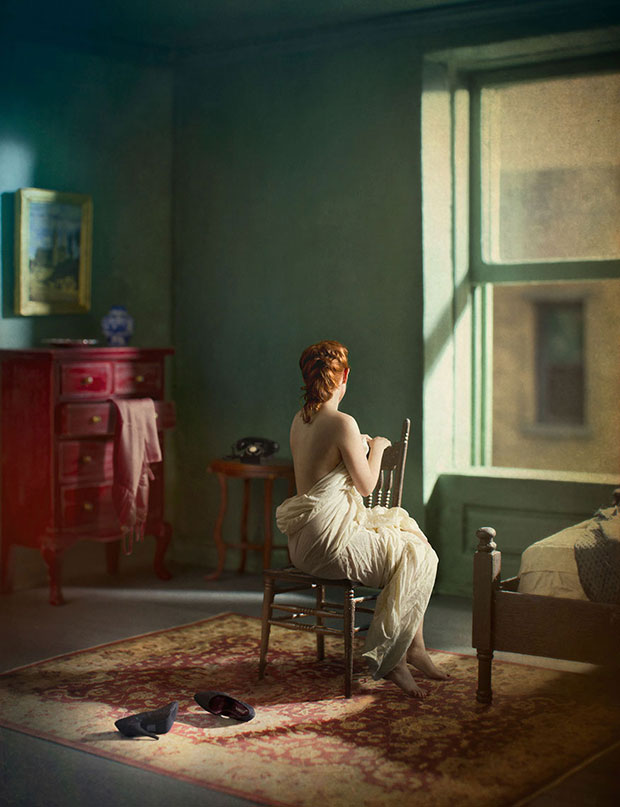 PP: Lastly, talk about what other projects or activities you're looking forward to in 2014.
RT: I have just started work on a new series inspired by recent trips to Kraków, Poland, where my wife was born. It's another series of open-ended narratives, but set in Eastern Europe, largely inspired by the architecture, and with an expanded cast of characters.