Hasselblad Unveils a Limited Edition Lunar, 'Good Fortune Indulgence' for Only $10K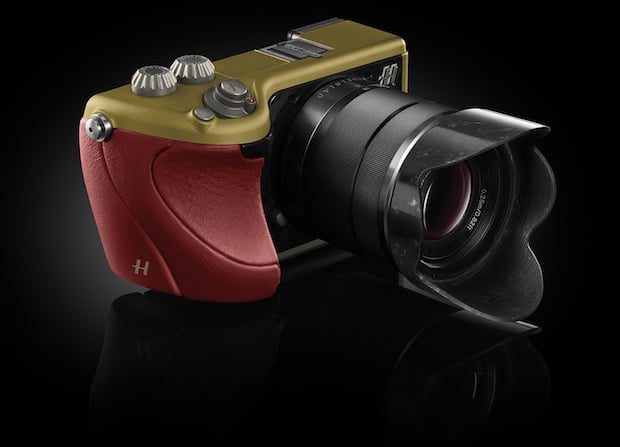 Within much of the photography community, the Hasselblad Lunar and Stellar are something of a running joke — rebranded Sony cameras that slap on exotic and/or luxurious materials and sell for thousands more than the originals.
But just in case buying a standard Sony NEX-7 Hasselblad Lunar isn't luxurious enough for you, the company is releasing a more expensive limited edition that will only find its way into 200 hands.
The camera is being released on January 31st to coincide with the Chinese New Year, will be available in a limited run of 200, and will sell at a before-tax price of 7,200 Euros or approximately $9,825 US.
The press release — which we highly suggest, for once, that you read in its entirety for entertainment purposes — does a better job of describing the camera than we could:
The Hasselblad Lunar Limited Edition, bristling with latest capture technology and crafted in lightweight titanium, boasts a sumptuous, unique red Tuscan leather grip; a black leather shoulder strap accented with red stitching and an exclusive PVD matte gold-treated top plate.
"We wanted to celebrate what, coincidentally, is also known as The Lunar New Year, with a unique and iconic limited edition camera which we believe will be revered as a true example of camera art by photo-connoisseurs and collectors across the world," says Hasselblad CEO Ian Rawcliffe.
"This is a unique opportunity for a very small number of discerning photographers who want high-spec shooting capability linked with matchless Italian craftsmanship in a point and shoot camera, to invest in a photo-capture icon."
Of course, it's easy for us to poke fun at a Hasselblad's Sony re-brands, especially when they jack up the price even further for the sake of selling a limited edition, but what are your thoughts?
Do you think the red leather and gold top plate — colors which, according to Rawcliffe, represent "good fortune and joy" in the Chinese tradition — improve on the Lunar's looks? Is anybody reading this going to be one of 200 to drop 10 grand on the new shooter? Let us know in the comments down below.
(via Photo Rumors)