Bad Engagement Photos Blog Shares the Most Cringeworthy of Engagement Pics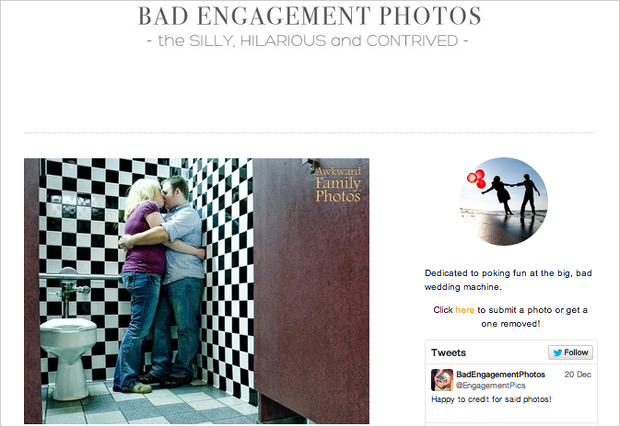 Once you've gotten to a certain level of proficiency as a photographer, it's easy to forget how rough things looked when you first started out. Of course, that forgetfulness might be a good thing, but there's a site out there that wants you to relive those moment by sharing them with the world.
The site is called "Bad Engagement Photos," and it's a new Tumblr blog dedicated to compiling some of the most cringeworthy engagement pics in the world. Pictures currently on the site range from public restroom photos to images that have been post-processed into oblivion.
Hey, photographers! Do you have any photos from your early days that you look at now & think "WTF?" Send to badengagementphotos1@gmail.com

— BadEngagementPhotos (@EngagementPics) December 20, 2013
Unfortunately, like many of these Tumblr blogs, some of the photos are probably being submitted by random users without permission, but the creators of the site are clear that the submissions link is also there for takedown requests.
Their most recent post is a call for submissions from quality wedding photographers who would like to share some of the photos from when they were first starting out, "Whether it's over-editing, weird poses, whatever – Bad Engagement Photos would love to see them."
Whether you'd like to have a laugh or you're interested in joining the fray, showing just how far you've come, and maybe inspiring a beginner to push through the rough patch, head over to the website by clicking here.
(via Co.Create)