An Intro to Adventure Sports Photography: 10 Photographers You Need to Check Out
Adventure Sports Photography often doesn't get a lot of attention in the photography world. While street, portrait, and wedding photography seem to reign supreme, this small genre is usually only appreciated in the respective sports it covers.
Which is really quite sad since it showcases some of the most amazing photographers working today. Not only are they able to compose and capture stunning shots, but they often do so in the worst conditions imaginable.
If you've never given adventure sports photography a chance, I highly recommend you check out the list I've put together below; it features some of the most talented individuals currently working in the field and is a great gateway into the genre.
And if you're already a fan and don't see your favorite photographer on the list, worry not. This list easily could have been twice as long but unfortunately I couldn't get a hold of a few people since apparently this job requires you to go to remote locations for long periods of time or something… Who knew?
Blotto
I want to start with one of my personal favorites, Dean Blotto Gray, or just Blotto. His photos have been featured in countless magazines, he's worked on amazing projects such as Brainfarm's The Art of Flight, and he's the principal photographer for Burton Snowboards, and all with good reason.
His work is quite simply, some of the best out there. He brings a street photographer's eye out into the wilderness and in the process creates powerful and emotive photos that are stunning.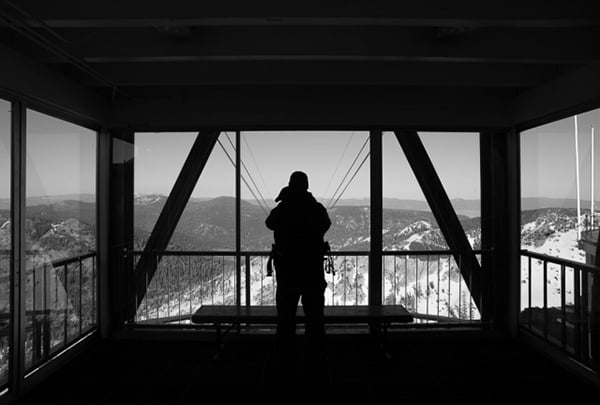 Scott Serfas
The old saying goes — jack of all trades, master of none. Which is why it's so frustrating that Scott Serfas seems to be able to jump between sports effortlessly and capture some of the best photos year after year in each sport.
Somehow, while working as a senior photographer for TRANSworld Snowboarding he's also able to travel around shooting surfers, skateboarders, and pretty much anybody else that will get in front of his camera. What makes it even worse is that it all turns out so damn good. From the grit of skateboarding the streets to carving through the highest altitudes in the world, Scott has it all covered.
Stu Gibson
Most of us have that craving, that unexplainable attraction, that flares up as we stare out over the sea. There's some unknowable calling that just speaks to us deep down when we stand back and watch the waves break.
What makes Stu Gibson's work so powerful is that it goes beyond the rider performing an impressive stunt or trick and effectively captures that natural allure that the ocean, and in turn surfing, has. When you look over Stu's work, you understand why surfers are so incredibly passionate about their sport, it's clear as the water in every photo he takes.
Gabe L'Heureux
The unique talent of Gabe L'Heureux's is his ability to show the daily grind behind the sport he's shooting. You can see it in the stark lone surfer walking back from the ocean through the rainy fog, or the determined focus in the snowboarder tuning his board, or any number of Gabe's photos — these sports clearly take work.
While others are only capable of capturing the fun side of the sport Gabe is able to show us the hustle of what it takes to walk into extreme elements and try and make man's mark on them. Don't worry though, he's equally capable of showing the incredible fun that this hard work leads to as well.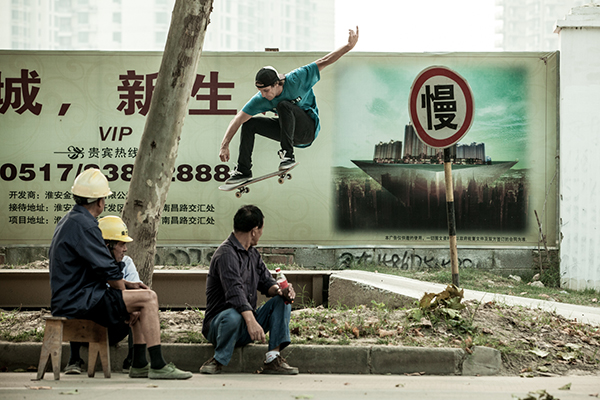 Vincent Perraud
Vincent Perraud first came to adventure sports photography after an injury that left him unable to ride led him to pick up a camera as a fun way to still hang out with his friends while they were riding. Perhaps those innocent origins are why he's able to so effortlessly convey the fun and energy behind BMX biking.
Scrolling through the gallery on his site you can feel the warm summer sun, hear the gravel crunching under the thick rubber tires, and sense that tumbling sensation in your stomach as your body realizes it's perpendicular with the ground while you're riding up a wall. These sentimental feelings of bliss and enjoyment from our youth are perfectly captured by Vincent, and it's what makes his photos truly exceptional.
Lorenz Holder
Lorenz Holder's work is filled with riders tearing through what look like alien vistas, shot on some far off planet. The stark colors and foreign looking environments give the photos an almost haunting atmosphere that intoxicates your eye. But Lorenz is nothing if not versatile and, as such, he's able to bounce from moody, isolated shots to bright, colorful photos that show just how enjoyable ripping through the snow can be.
His photos encapsulate the 'have fun by any means necessary' attitude so prevalent in snowboarding culture while also showcasing the artistic beauty of a rider enjoying his natural environment. Combined, these elements give Lorenz Holder's photography a powerful one-two punch most photographers would kill for.
Jody MacDonald
To me, one of the most appealing factors in Jody MacDonald's work, especially her 'Paragliding in Mozambique' gallery, is how the photos could just as easily be abstract paintings.
The elegant shapes pull your eye's attention, and it's easy to get lost in the folds and bends of the sand dunes or the shimmering patterns of the lagoons with the small para-glider hovering over, surveying the land like a shepherd does his flock. Her ability to look at a sport with such a unique and beautiful perspective is what makes Jody's work stand out.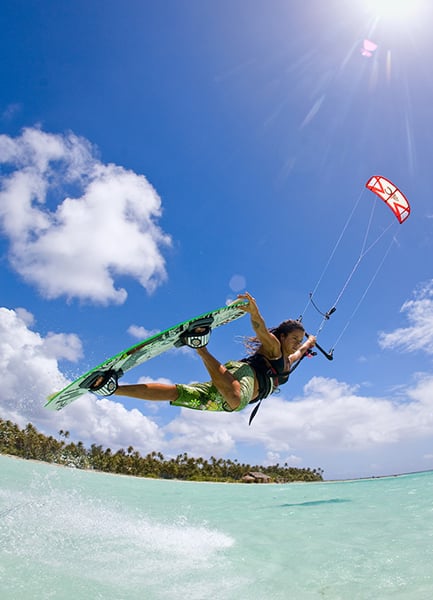 Frode Sandbech
Be it the rich blue hue of the heavens straddling the orange-tinted mountains, or the pure white snow against eerily dark winter skies, one thing is clear in Frode Sandbech's photography: contrast is king. And boy is he a master of it.
In addition to his sharp contrast, his photos have a real knack for showing the journey one must endure when attempting back country snowboarding. People don't just magically appear on the top of mountains (okay, maybe heliskiers do) they trek through bone breaking rocks and several feet of snow, sometimes for miles, to take one ride down the face of the mountain they just climbed.
That takes a lot of passion and determination. Luckily, Frode is often there with his camera to capture it all.
Tyler Stableford
Tyler Stableford's work in adventure sport photography holds one key feature that makes it stand out above all others: his ability to capture that crystal clear moment every photographer is looking for. His photos communicate everything about the sport he's shooting by locking on to a precise instant in time that tells the entire story of what came before.
Michael Clark
Michael Clark has many talents but perhaps the most powerful weapon in his arsenal is his ability to accurately capture the grand scale on display in front of him. You can feel the enormous scale in every sport, stunt, and activity he shoots.
Looking at his photos, you can feel how long the fall will be if the climber slips, or if the rider misses his jump. This skill is equal parts impressive and important, as it allows us to share in the rush of the adrenaline-inducing sports he shoots. Except, you know, without risking our lives.
---
Image credits: All photographs used with permission.