Photographer Embarks on 40,000km Bike Trek Around the World with His Camera
Yesterday, our own Alan Steadman shared some advice. He told you to go out and explore, to travel, to see the world and meet new people so that those experiences could inform the stories you tell when you're working behind the camera.
Well, if you were looking for a shining example to go with those words, look no further than photographer, writer and cyclist Rob Lutter, then man who is currently 15,000km (about 9,300 miles) into a 40,000km (about 25,000 miles) photographic journey around the world.
Lutter's story begins with a case of OCD that left him depressed and always needing to move on, up and out. "Each time I settled in one place, the disorder caught up with me, creeping into my mind & bleeding over into the life & career I was trying to create," writes Lutter. "I would always have to move on. In London I became depressed from it… I needed to escape the city, but I could find no way out."
The way out presented itself in the form of a chance encounter with the book The Man Who Cycled the World. "In that moment, an idea was born," says Lutter. "Within a few hours I'd bought a guide to Adventure Cycling from the nearest bookshop & planned a route. It was confirmed, I was going to cycle around the world."
When it came to documenting this trip, Lutter (who is a photographer and writer when he's not on his bike) made sure to bring along his trusty Canon 5D. And so, since the moment two years ago when he set out from London, every step of the way has been recorded with stunning pictures he's uploaded to his website, The LifeCycle.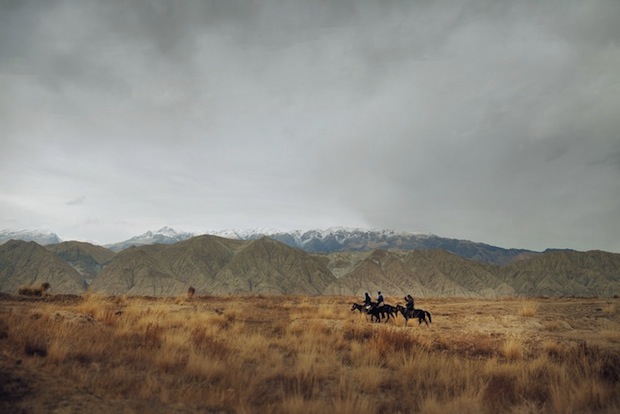 In two years, Lutter has travelled 15,000km to reach Hong Kong, raising about £3000 for water aid and mental health charities and capturing some fantastic imagery along the way.
Thus far, he's been entirely self-funded by a combination of savings and the money he made selling just about everything he owned before leaving, but in order to finish this trip, he'll need some help from the Internet.
He's taken to Kickstarter to raise the last £5,000 (about $8,000 US) he'll need to complete the journey, and he's offering all sorts of perks — from signed postcards, to an original Aussie boomerang, to the actual bike itself after he's done with it — for those who would like to help him out.
Here's his Kickstarter vid:
Truth be told, Lutter is more interested in inspiring others by telling as many people as possible about the journey than he is about people funding the second half. "Kickstarter or not, I would love to get this journey out there," he told us through e-mail. "Get the photos and stories to more screens around the world and maybe inspire a few more people to explore, discover and seek out change in the world beyond our doorstep."
If you'd like to support his journey, you can do so by heading over to his Kickstarter page here. He's currently raised all but £800 of the money he needs to finish, with ten days left to complete the goal.
But even if you're not interested in pledging, be sure to visit The LifeCycle and browse through the entries and photos there. Fair warning though, it might cause you to fall prey to some serious wanderlust.
---
Image credits: Photographs by Rob Lutter and used with permission.