How Far We've Come: Comparing the ISO Capabilities of Nikon's D70 and D600
After Toronto-based artist Kyle Clements put together his popular D600 sensor dust time-lapse, he began receiving many questions about how his new camera stacked up against the D70 he used up until that point.
Rather than continue to answer questions individually, he's decided to start putting together YouTube videos for the most popular ones, starting with the ISO comparison above.
Keep in mind that the D70 is a crop sensor camera, which immediately puts it at a disadvantage when compared to the full-frame D600. Even knowing that, however, the difference that eight years of engineering and advances in digital photography have made for low light shooting are staggering when placed side-by-side.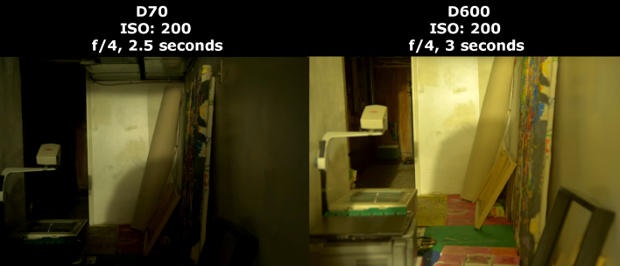 Clements performed the test in a dimly lit portion of his studio — he maintains that many ISO tests are unrealistically performed in well-lit environments — with the D600 turned down to 6MP to match the D70. The cameras were then set to aperture priority mode at f/4 with 0 exposure compensation.
Because he used aperture priority, the D600 shots automatically come out much brighter as the full-frame camera chooses to expose for about a half-second longer than its crop sensor elder. But what Clements was looking at wasn't brightness, but rather the difference in noise/usability of the resulting photos.
As you can see, the low-light capability of the D600 blows the D70 out of the ISO water. By Clements' estimation, the D600 gives you a 3-stop advantage in the low-end (i.e. ISO 1600 on the D600 is still just as clean as ISO 200 on the D70) and a 4-stop advantage in the high-end (i.e. ISO 1600 on the D70 is already as noisy and unusable as Hi 2 on the D600).
"This current generation of cameras is awesome," writes Clements in the video description. "and if you love shooting in low light, this is an amazing time to be a photographer!" Check out the video at the top to see the full side-by-side breakdown.
To see more of Clements comparisons, check out our previous coverage on the D600 sensor dust issues and be sure to follow him on YouTube so you can keep track as he answers more of those questions he's been getting.
(via Reddit)