Gray Malin's Colorful Beach Bum Aerials, Shot from Doorless Helicopters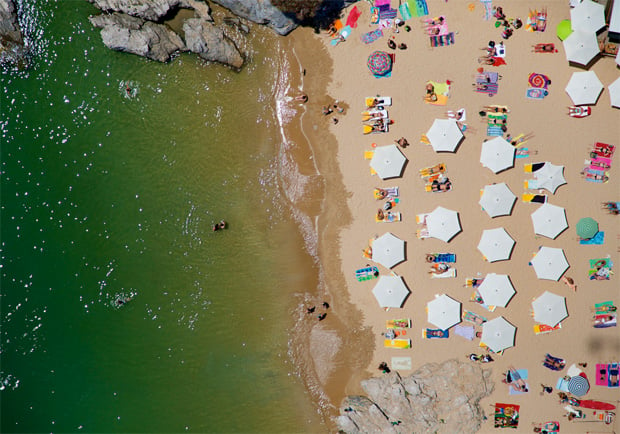 Colorful images of beach bum-packed shores are probably the best way to describe West Hollywood-based Gray Malin's collection, dubbed "À La Plage, À La Piscine" (translates to At the Beach, Pool).


The images, shot from door-less helicopters in the skies above, come from around the world. From famed Bondi beach in Australia, to European shores, the Americas, and even Africa!
His inspiration? Watching pool-goers from a Las Vegas balcony.
"I was standing on a top-floor hotel balcony in Las Vegas that happened to have a bird's eye view of the pool below," Malin said to Weather.com. "I became mesmerized by the spectacle of hundreds of sunbathers and swimmers splashing around in this gigantic pool. I took a photo of the scene, and it ended up being the creative spark that ignited the series."
Having spotted an interesting color or pattern, Malin bravely leans from the helicopter to snap away. His secret to capturing a great image is timing, he says.
"When you're flying in a helicopter at high speeds, leaning out the doorway into strong winds, you often only have a fraction of a second to capture the right shot."
Malin expects to continue shooting the "À La Plage, À La Piscine" collection this summer. His planned shooting locations include the beaches of Chicago and Italy.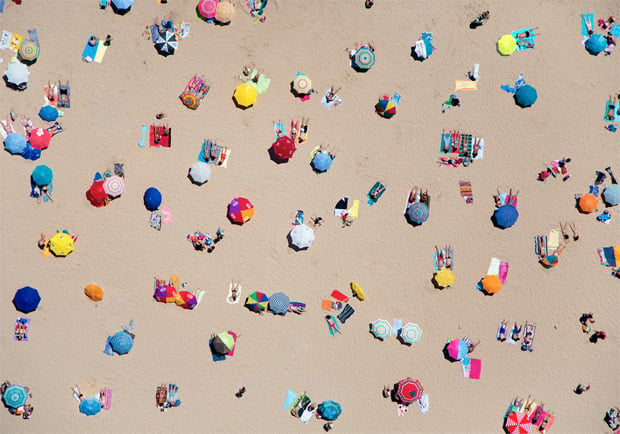 You can view Malin's beach aerial collection, along with others, on his website.
(via Weather.com)
---
Image credits: Photographs by Gray Malin and used with permission