Wedding Photograph Features a Hungry T-Rex Chasing the Bridal Party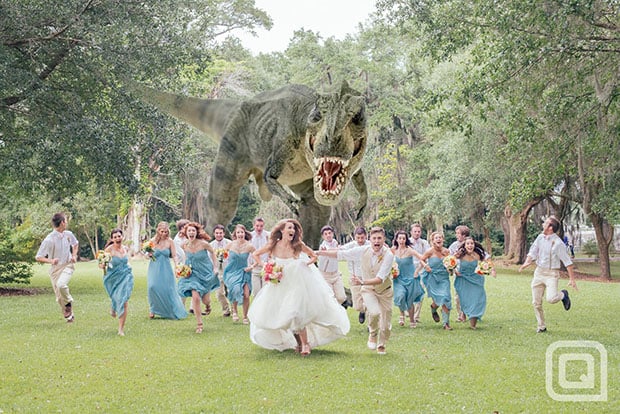 Here's a fun wedding photo idea we've never seen before: dinosaur photobombing. Baton Rouge, Louisiana-based wedding photographer Quinn Miller created the photograph above this past weekend showing a hungry (and massive) T-Rex chasing after a bridal party that's running for its life.

The photo is even better when you get up close and see the horrified facial expressions on the subjects:
Miller tells us that he had previously seen the idea somewhere, and knew that the bride and groom (Katie Young and James Lowder) would be up for it due to Lowder's love for dinosaurs.
The setup was simple: Miller had the party stand in a clearing at the The Myrtles Plantation in Saint Francisville, Louisiana and then pretend to be running away from an invisible dinosaur. His instructions:
Run right at the camera, away from the T-Rex, as passionately as you can. I need to see fear and actual running, not lame faces and power walking.
The fun-lovin' bridal party was more than willing to, and the photo was snapped in a single take in a couple of minutes.
Miller then sourced a stock T-Rex photograph from iStockphoto and Photoshopped it into the background of the image. The resulting image has become quite popular online after Miller shared it through his Facebook page.
No word on whether Miller will be including Dino Photobombs as part of his standard wedding package. You can find more of his work over on his website.
(via Gawker via Doobybrain)
---
Image credits: Photographs by Quinn Miller and used with permission