Bridal Model Receives Photos of Her Own Through a Fantasy Photo Shoot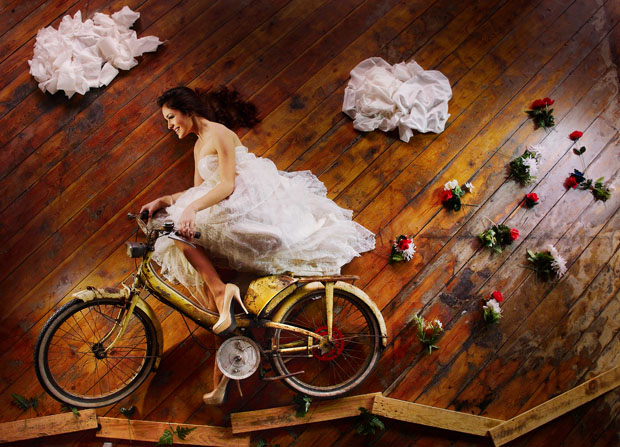 Claudia Nallely Agres works as a bridal model for a living, but she hasn't yet had the joy of being a bride in a wedding of her own. Wedding photographer Ryan Brenizer wanted to change that, so he recently held a special photo shoot for Agres that resulted in some beautiful and unusual bridal portraits.

Claudia Nallely Agres and her husband Matt got married in a simple civil ceremony back in 2011. That was right before they were separated for eight months while Matt went through Air Force basic training.
Shortly after the training, Matt was sent last year on a three year assignment to an Air Force base in Germany. Claudia is still unsure of when they might be able to have a proper wedding and a real bridal portrait shoot.
When Brenizer learned about this, he decided to invite Claudia and Matthew to a studio in London for a special bridal shoot for photos Claudia could keep herself. Matthew wasn't able to leave his base, so Claudia traveled solo from Germany herself with a vintage wedding dress in tow.
Since Claudia has already done countless shoots while posing as a bride, Brenizer decided he would try a unique concept that would be new to Agres. Inspired by Jan von Holleben's Dreams of Flying project, Brenizer decided to create fantasy scenes on the ground and photograph Claudia from above while she posed on the ground.
The shoot lasted for an hour and a half, and resulted in three photographs showing Claudia biking and leaping in a fantasy world created with tissue paper, flowers, and wood blocks: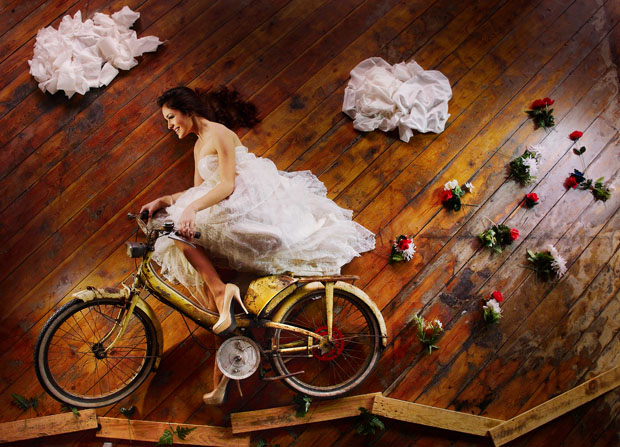 Here are some behind-the-scenes photographs Brenzier provided us that show the studio as they were preparing for the shots:
Here's a behind-the-scenes photo snapped by Dean Govier:
Brenzier says he hopes to one day photograph Claudia again, but with Matthew present and playing a part in the whimsical scenes.
---
Image credits: Photographs by Ryan Brenizer and used with permission