Simulate Lighting in a Virtual Photo Studio with set.a.light 3D STUDIO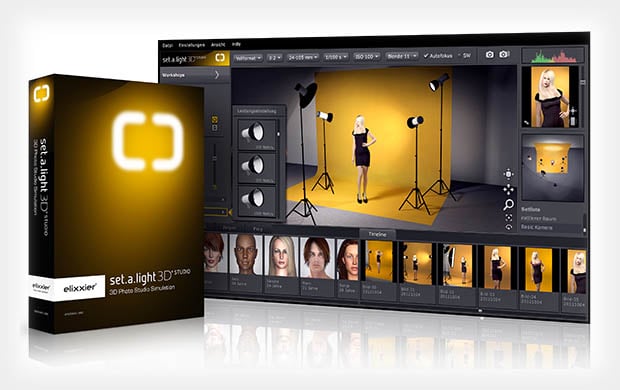 Want to plan out and test your studio lighting setups before setting up equipment and bringing subjects into the picture? German software development company Elixxier has been developing a software program designed to help you do just that. It's called set.a.light 3D STUDIO, and is, according to Elixxier, the world's first software dedicated to photo studio simulation.

The program is like a fancy 3D version of the online lighting diagram and lighting simulation apps we've featured in the past.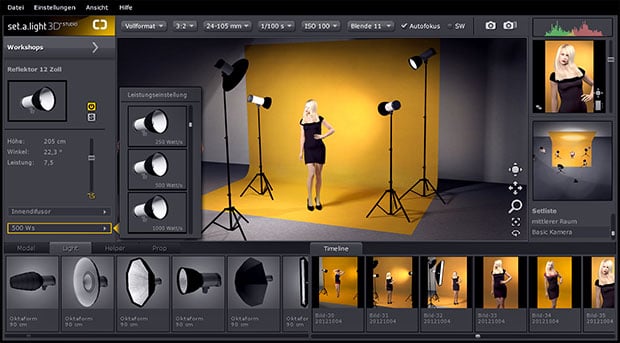 It lets you move subjects and equipment around in 3D space, and can render physically correct light. The program even calculates light that reflects off of walls and objects in the scene. Elixxier says that he light you see in the program will be the same light you'll see when you actually recreate the setup in the real world.
Once you've set up your studio the way you'd like it in the program, you can simulate the photographs that would result by triggering a virtual camera.
The virtual camera has all the settings you'd find on a real world camera. You can choose the sensor size, the aspect ratio, the exposure settings (shutter, aperture, ISO), and the lens used. Depth of field is realistically simulated based on the settings you choose.
If you're satisfied with the result, the program makes it easy to recreate the setup by providing options for exporting the set plans. The high-resolution rendered photograph and the detailed set plans can then be provided as guidelines for other people to turn the planned photo into a reality.
In addition to cutting down on test shooting time for seasoned photographers, the program is also a nice lighting "sandbox" beginning photographers can use to learn about studio lighting without having to rent gear and/or space.
Here's a short video demonstrating how the software works. It's in German, but you'll get the gist:
A copy of set.a.light 3D STUDIO will set you back €140 (~$184) through the Elixxier online store, but the company is also offering a feature-limited trial version that you can play with for 15 days.
set.a.light 3D STUDIO [Elixxier]
---
P.S. If you'd like a full version of this software for free, leave a comment on this post. Elixxier is providing us with 3 free licenses to give away to our readers. We'll pick the winners after a few days.
---
Update: Here are the three randomly selected commenters: LIz, Duke Shin, and Fady. Please contact [email protected] to claim your license! (We're contacting you as well).