A Closer Look at Obama's New Official Presidential Portrait
A good number of websites are talking about the new official portrait of President Obama. It was shot in the Oval Office back on December 6th, 2012 by official White House photographer Pete Souza, whom we've written about quite a few times in the past.

The simple image was captured using a pretty standard kit. The EXIF data reveals that Souza was using a Canon 5D Mark III and a Canon 85mm f/1.2L lens. Other details, in case you're curious, are a shutter speed of 1/125, an aperture of f/7.1, and the ISO set at 200. Photoshop CS5 was used to post-process the photograph.
In terms of how the portrait was lit, a closer look at Obama's eyes (the high-res version of the image can be found here) reveals what appear to be two octoboxes:
Just as a reminder, here's the official portrait that was created when Obama first took office four years ago:
It was the first official presidential photograph to be captured using a digital camera (the Canon 5D Mark II).
Here's a closer look at the eyes in that first portrait (the lighting wasn't as even as the more recent photo):
That 2009 photograph was captured at 105mm with settings of 1/125s, f/10, and ISO 100.
(via PopPhoto)
---
P.S. As a non-photography-related side note, here's a side-by-side comparison of the two portraits that show the toll 4 years in the White House has taken on Obama's appearance (he's noticeably grayer):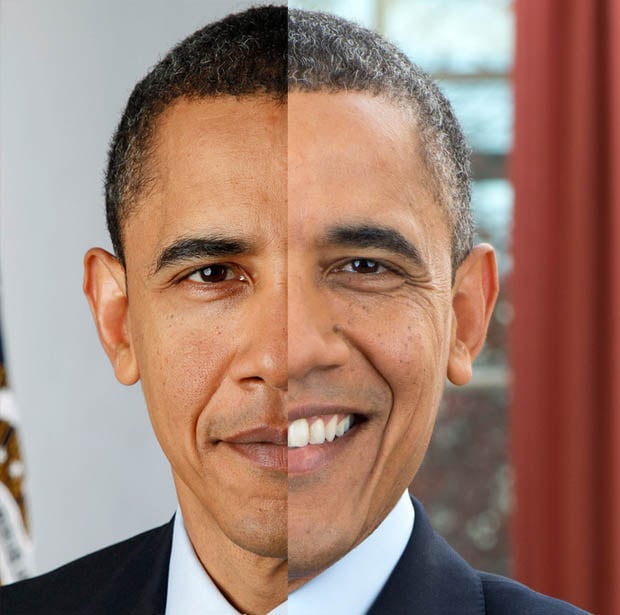 If you're interested in the subject of Presidential aging, check out this photo gallery by Time.