Posts Tagged 'triggertrap'
Triggertrap has announced Timelapse Pro, a new app for its mobile camera control kits that gives time-lapse photographers more flexibility in creating complex sequences than the basic Triggertrap app.
Read more…
High-flying Kickstarter campaigns get a lot of glory, but they come with their fair share of risks: just ask Triggertrap. Back in 2013, the UK-based camera trigger maker launched a crowdfunding campaign for a new modular camera trigger it had developed, called the Ada (initially it was the "Redsnap"). With an initial goal of only £50K, the company successfully raised £290,386 (~$446K) from nearly 1,971 backers.
For the next year, things seemed to be going well, and the company posted regular status updates on progress. Yesterday, that all came to an abrupt end as the company announced that the project has been shuttered.
Read more…
As a means to both promote their product and get a giggle out of would-be consumers, Triggertrap put together this witty short video that highlights a few ways you can use their robust triggering system to catch would-be Christmas thieves ala Home Alone.
Photographer puts his intervalometer to romantic use
Feb 28, 2014 · Helena Vieira
· Comment ·
The Triggertrap name has appeared on PetaPixel many times before: from the very early days of v1 on Kickstarter, to an interview with CEO Haje Kamps, to the release of Triggertrap Mobile and beyond. Now we have another exciting reason to write about Triggertrap, and that reason is called Redsnap.
Redsnap is the evolution of the original Triggertrap V1 that was so successful on Kickstarter, and what it provides that the v1 didn't is infinite expandability through attachable sensors. It is, according to Triggertraps description, "one of the fastest, easiest to use, and most affordable high-speed flash and camera triggers money can buy." Read more…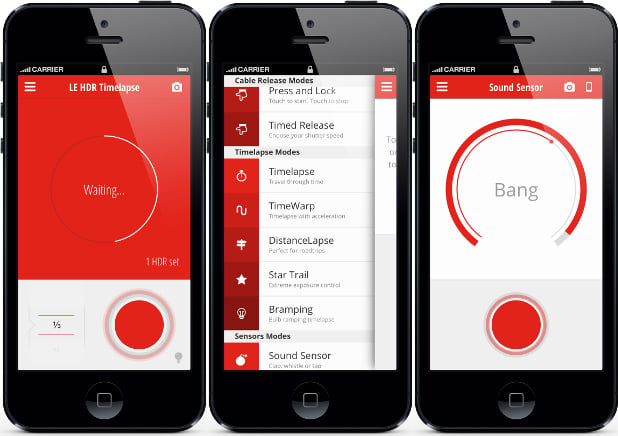 The popular mobile triggering solution Triggertrap just announced version 2.0 of its mobile application, complete with a visual overhaul and a total of 14 triggering options that promise to "make advanced photographic techniques available to everyone — even photographic newbies." Read more…
Over the years, we've featured some truly stunning examples of time-lapse photography, but we certainly don't consider ourselves a curator of the technique. If you happen to be looking for such a service, the new website Primelapse has got you covered. Read more…
You may remember Triggertrap from our coverage of it a little over a year ago. The iOS app, which has since made its way to Android as well, acted as a "jack of all trades" camera trigger that offered more than 12 different triggering options.
Several of those options — such as the sound and motion triggers — were geared towards high-speed photography, and a new update and flash adapter from the Triggertrap team are primed to take the app's high-speed photo capabilities to the next level. Read more…
Apple's iPhone and iOS get a lot of media attention, but Google's Android OS is the world's most popular smartphone operating system by a long shot. Given this fact, it makes sense to at least target both markets if you're releasing something that's intended to be widely used. Triggertrap understands this, and today released the Android version of its mobile camera triggering app.
The app is designed to be used with the company's Mobile Dongle, which has also been refreshed. In fact, the new Android app requires the new Dongle, while iPhone users can use either version.
Read more…
When we told you about the StrikeFinder app earlier, we mentioned that what set it apart was that it used your actual iPhone's camera; it wasn't just acting as the trigger. Well, Trigertrap's new mobile app is just acting as the trigger, but it's acting as a very comprehensive trigger. Read more…