Posts Tagged 'trends'
I'm photographing a wedding in a couple of weeks. During one of our meetings, I asked the bride whether she and her fiancé had made a decision regarding their guests being allowed to photograph during the ceremony and reception. She started shaking her head, saying that it hadn't even occurred to her.
I could tell she was getting a little agitated thinking about whether they would offend their guests if they told them they couldn't take pictures. So we talked about the pros and cons of it. They haven't made their decision yet.
Read more…
It's official — the point-and-shoot market is dying, while DSLRs and other interchangeable lens systems champion the cause for standalone cameras.
A new report from retail researchers NPD tallies U.S. sales of $2.1 billion worth of interchangeable lens cameras between June 2012 and May 2013, an increase of 5 percent over the same period a year ago. U.S. sales of compact cameras, meanwhile, plunged 26 percent, to $1.9 billion. This is the first time interchangeable lens cameras have surpassed the sleek-and-shiny segment.
Read more…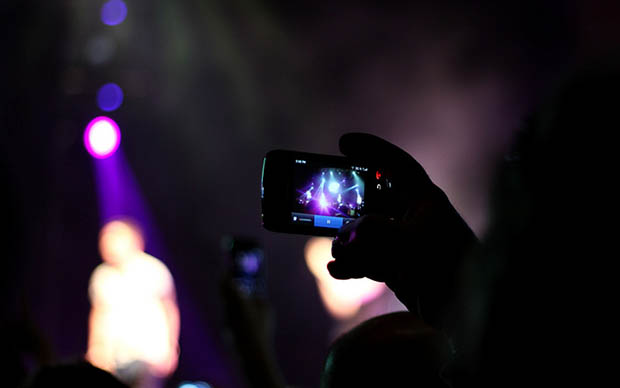 We recently published an article about She & Him enacting an anti-photo policy at a gig. Signs were posted saying "At the request of Matt [Ward] and Zooey [Deschanel], we ask that people not use their cell phones to take pictures and video, but instead enjoy the show they have put together in 3D".
It reminded me of a story my Father told me about a Frank Zappa concert. Apparently, people were given opaque-lens glasses at the request of Zappa and the band so that, audience-members could more fully experience the music without any visual distractions.
Read more…
Call it female empowerment; call it friendship; call it bonding… Whatever you call it, the newest trend in boudoir photography involves "getting your boudoir on" with your friends. Yes, according to the Today Show, groups of women are now stripping down to next to nothing with their besties for professional group boudoir photos.
Read more…
Magazine and newspaper stories have traditionally revolved around the writer. A writer would pitch stories and was almost always the architect of the piece. When the story needed visuals, a photographer or illustrator would be brought in, often after the story was finished. This order of operations placed the writer in the driver's seat.
The primacy of the writer was reflected in the leadership of the publication where editors, responsible for direction and content, rose from the ranks of authors. During the nineteenth century, when publications were gray tomes celebrating the written word, this was a perfect arrangement. Artwork accompanied the story, augmented it, clarified it, attracted attention to it, but always served a subordinate role. Photography was the appetizer to the article's main course — the words.
Read more…
Hiroshi Hiyama over at Phys.Org reports that smartphones are crushing the point-and-shoot industry, putting compact cameras in the same group as video game consoles and portable music players — devices that are having a hard time competing against all-in-one phones. The numbers are crazy:
Just as digital cameras all but destroyed the market for photographic film, the rapid shift to picture-taking smartphones has torn into a camera sector dominated by Japanese firms including Canon, Olympus, Sony and Nikon. "We may be seeing the beginning of the collapse of the compact camera market," said [analyst] Nobuo Kurahashi. Figures from Japan's Camera and Imaging Products Association echo the analyst's grim prediction. Global shipments of digital cameras among Japanese firms tumbled about 42 percent in September from a year ago to 7.58 million units, with compact offerings falling 48 percent, according to the Association. Higher-end cameras with detachable lenses fell a more modest 7.4 percent in that time, it said.
As the compact camera market shrinks, the war over mirrorless camera dominance is growing. All the major camera makers now have a horse in that race, which will only be heating up as consumers discover that they no longer have a need for small-sensor cameras.
Smartphones crushing point-and-shoot camera market [Phys.Org]
---
Image credit: Photo illustration based on still from Inception by Warner Bros. Pictures
Professional photographers are often hired to capture moments in life that are memorable and emotional — two words that aptly describe military homecomings. The number of photographers hired to shoot homecomings is reportedly growing, as more and more families are hiring professionals to document the reunions that occur when soldiers return from war.
Read more…
Ever wonder what the average age of professional photographers is? Dave Good of Rangefinder magazine writes,
Ed Lee is the group director of InfoTrends Worldwide Consumer and Professional Imaging Services. "The number of female photographers has grown," he says. Now it's a 2/3-to-1/3 split of males to females, a pickup from last year." Forty percent of them are part time, while 28 percent, he says, are full time. "And it's a younger female at that," he says. "Age 45, and younger," according to the 2011 & 2012 InfoTrends Professional Photographer Study.

"It comes down to the economy," Lee says. "With families still struggling, people are turning to part-time photography as a way to bring money into the home." He sees the photo business as a changing of the guard. "The average age of the full-time male photographer is 50. The average age of the full-time female photographer is 41." The implication is that more full time male photographers are retiring. "You're going to see a shifting towards an even higher percentage of females."
The magazine's entire Business Trends Report 2012 is worth a read if you're at all interested in how the photo industry is changing.
State of the Industry: Business Trends 2012 [Rangefinder]
---
Thanks for sending in the tip, Phil!
---
Image credit: Photo illustration based on Tree rings by [email protected]
Yesterday we shared a piece by photographer Kenneth Jarecke on why Instagram isn't fit for photojournalism. Now, from the other side of the aisle, Jeff Bercovici of Forbes writes that Time had great success after hiring five Instagrammers to document Hurricane Sandy:
The resulting collection on Lightbox, Time's photography blog, was "one of the most popular galleries we've ever done," says [Time DP Kira] Pollack, and it was responsible for 13% of all the site's traffic during a week when Time.com had its fourth-biggest day ever. Time's Instagram account attracted 12,000 new followers during a 48-hour period.

One of Benjamin Lowy's photos even ended up getting selected for the cover, although it's one of three covers Time is running this week […] While the level of resolution isn't perhaps what might be achieved with a camera, says Pollack, "It reproduced beautifully. There's almost a painterly quality to it."
Pollack tells FolioMag that the decision to use Instagram was based on distribution speed rather than aesthetics.
Why Time Magazine Used Instagram To Cover Hurricane Sandy [Forbes]
---
P.S. It seems that by "Instagram photo", Forbes and Time are referring to the fact that they were shared through, not captured with, Instagram.