Posts Tagged 'tragedy'
On a photojournalist's duty to clearly, accurately and respectfully report tragedy
Jordan Stead · Apr 14, 2014 ·
2 Comments »
·
In a yet another tragic loss for the photojournalistic community, acclaimed German AP photographer Anja Niedringhaus lost her life Friday in eastern Afghanistan when an Afghan policeman opened fire on the car she was sitting in. Read more…
Sad news came out of Atlanta, GA, where a veteran Associated Press photographer suffered a fatal heart attack on the field shortly after the conclusion of the Chick-fil-A Bowl this last Tuesday. Read more…
A photographer at French newspaper Libération is currently fighting for his life after being shot Monday as part of a gunman's extended rampage through the French capital of Paris. Read more…
This unbelievable satellite photograph shows the sheer horrifying magnitude of Typhoon Haiyan, the terrible tropical cyclone that caused unimaginable damage to the Philippines yesterday (you can see the full resolution image here). Read more…
The kinds of stunts the rise of action cameras has allowed us to capture in POV are often scary, but more often than not they're also planned. However, for nine skydivers, the footage their helmet mounted GoPros captured recently wasn't planned in the least, and it will likely be the most terrifying thing you see all week… or month… or year. Read more…
Update: The Associated Press has re-released the photos, and is now confirming that they DO show scenes related to the Navy Yard shooting.
---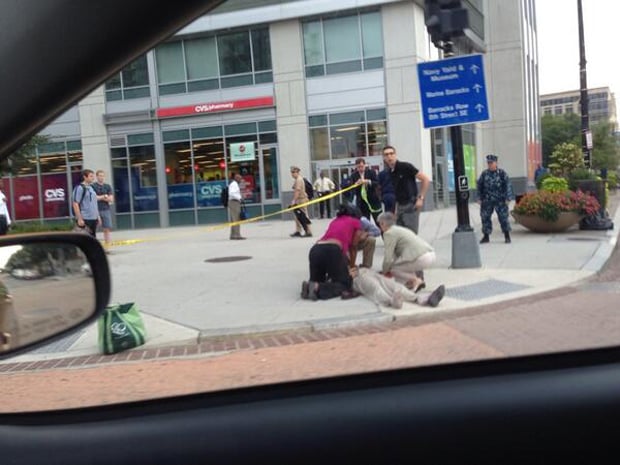 A widely distributed image used to illustrate stories about Monday's horrific shooting at the Washington Navy Yard likely had nothing to do with the tragedy, offering a cautious tale of modern media overreach. Read more…
Nineteen young men. Fathers, brothers, and sons. Friends and fiancés, teammates and drinking buddies. These are the men who were lost on June 30, 2013 in Yarnell, AZ during an event labeled the Yarnell Hill Fire.
I knew most, if not all of these men by sight, some by name, a small handful I knew very closely, sharing laughs with them and their families over the years. Over the past 72 hours or so, I have had the privileged to watch first hand as the city of Prescott and the state of Arizona has been joined by the world in remembering and honoring these fallen firefighters.
Read more…
On the morning of December 14th, 2012 I found myself scanning the redundant array of social media apps on my phone. Just as I was about to pry myself out of bed, I had come across a recent twitter post by one of my fellow graduates of Newtown High School. In just a few minutes I would learn that my former hometown elementary school had become the site of one of the most horrific school shootings that this country has ever seen.
Read more…
Argentinian photographer Daniel Mordzinski, know for his work photographing literary giants, is accusing famous French newspaper Le Monde of trashing 27 years of his work without warning. Boxes worth of negatives and slides were allegedly thrown away when the photographer's office at the newspaper was cleaned out without notice earlier this month. Read more…