Posts Tagged 'tour'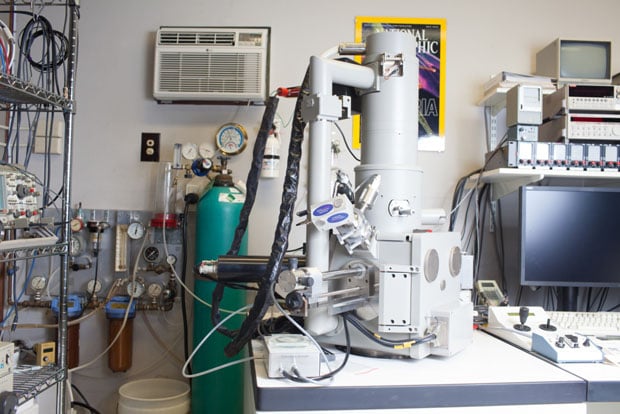 David Scharf is a basement pioneer in the art of making some of the world's smallest things appear huge.
Read more…
Back in October, we shared some photos taken inside a small Chinese studio lighting maker named NiceFoto. Now we have a look at what operations look like at a much larger manufacturer: Godox. It's reportedly the second largest studio lighting producer in all of China.
Read more…
A few weeks ago we shared a custom-built workspace by a photographer named Tom Brinckman. This week we have a glimpse into photographer Dan Jahn's dream studio, a 2800-square-foot space in downtown Denver, Colorado that Jahn designed every inch of himself.
Read more…
Bloomberg published this short feature earlier today titled, "The World's Most Wanted Camera vs. the iPhone Era." In the video, reporter Nejra Cehic takes us on a brief behind-the-scenes tour of Leica's gear manufacturing headquarters in Solms, Germany, and discusses what the future holds for the brand.
Read more…
Over the past couple of years, German photographer Markus Reugels has attracted quite a bit of attention for his high-speed photographs of water drop splashes. His project, titled "Liquid Splashes", consists of split-second photos that make colorful splashes look like tiny glass sculptures hovering in the air above a mirror. In the video above, Reugels introduces himself and his work, and takes us on a behind-the-scenes tour showing how he goes about creating his beautiful photographs.
Read more…
Back in February the New York Times launched a new site called "The Lively Morgue" for regularly sharing photos from its historical archive of the same name. The video above gives an interesting behind-the-scenes glimpse at this amazing underground archive that stores millions of historical photographs and 300,000 sacks filled with negatives.
(via DEVELOP Tube)
Here's a hands-on tour of the new Fujifilm X-Pro1 that was announced yesterday — a gorgeous camera that has the photo world buzzing with excitement. There's been a lot of speculation on the camera's price, which hasn't been announced, with most sources reporting that it will be in the range of $1,600-$1,700.
Read more…
The George Eastman House in Rochester, NY is the world's oldest museum dedicated to photography. A couple years ago, curator Todd Gustavson wrote a book on the history of photography featuring the museum's gigantic collection of historical cameras. This behind-the-scenes video with Gustavson gives a glimpse into the drool-worthy warehouse and a brief tour of some legendary cameras.
(via Xatakafoto)
Here's a rare behind-the-scenes look into Ansel Adams' home in Carmel, California and the custom built darkroom in which most of Adams' famous prints were created. It's pretty amazing how much editing Adams' did in transforming the plain negatives into the beautiful works of art hanging on walls around the world.
The negative is comparable to the composer's score and the print to its performance. Each performance differs in subtle ways.

– Ansel Adams
Michael Adams, Ansel's son and the "tour guide" in this video, also shares some of Ansel's tools, techniques, and tricks.
(via f stoppers)
If there was an MTV Cribs for photographers, it would probably look something like this. In this video Yuri Arcurs gives us a tour of his new photo studio, and the €300,000 (~$400,000) of lighting equipment that he has lying around in it. It's a studio fit for the king of microstock — one who sells over 2,000 photos a day and over 2 million a year.