Posts Tagged 'survey'
Want to get more likes on Instagram? Make sure your images are predominantly blue, spaciously cropped, bright and mildly desaturated. Read more…
Young people love to take selfies and don't really care about printing photos and putting them in albums. That might not be the biggest shocker of the year, but a new British survey at least puts some numbers to this amateur photography trend that's leaving us with a lot fewer prints and a lot more digital clutter. Read more…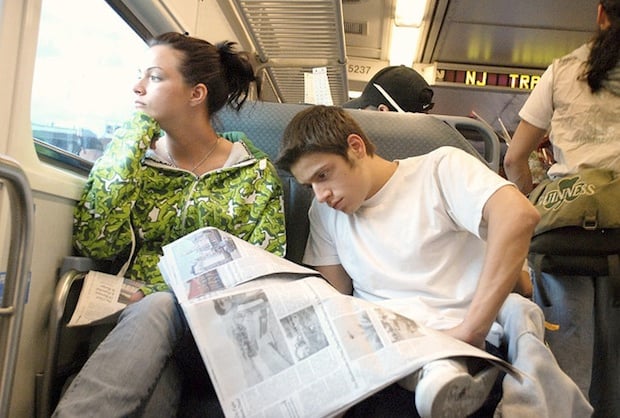 Have you ever covertly taken a photo of an attractive stranger when out and about in public? If you have, then you're no different than 8% of Brits, at least according to a recent survey. Read more…
Eposure, a UK company that brings commercial photographers together with the companies that need them, recently released the results of a survey they conducted about the day rates of UK and U.S.-based photographers. And even though some might expect that the vast majority are charging a pittance in our photography-saturated world, the outlook isn't as grim as you may think. Read more…
If you're set to get married soon and are in the process of planning for the big day, here's a tip that might save you from some sadness further down the road: don't go cheap on the photography if you can help it. It turns out that spending too little on photography is one of the biggest regrets brides have after their wedding, while spending too much rarely causes remorse.
For a wedding issue that will soon be hitting newsstands, New York Magazine created an infographic titled "What They Would Have Done Differently." The magazine asked one hundred recent brides about what they'd do differently if they could go back in time.
Read more…
The Pew Internet & American Life Project released the results of a survey this week that sheds light on social media use among Americans. One of the networks they asked participants about was Instagram.
After surveying 1,802 Internet users in late 2012, the study found that 13% of Internet users use the mobile photo sharing service. It also found that the service is "especially appealing" to "Adults ages 18-29, African-Americans, Latinos, women, [and] urban residents."
Read more…
In late 2012, Photoshelter surveyed around 5,000 photographers to find out the industries outlook on 2013. Some of the findings were pretty interesting.
The chart above shows the top challenges the photographers think they'll face in 2013. Only 10% of those who responded were worried about gear-related issues. People don't seem to be having a hard time finding the right equipment to use for their shoots — it's the business-side of the photography business that's weighing photogs down.
Read more…
Every few months, it seems, a fine art photograph is sold at auction for an astronomical price and then takes its place among the world's most expensive photos. The price tags are large, but pale in comparison to the hundreds of millions of dollar shelled out for the world's priciest paintings.
One reason for the price discrepancy may be due to the fact that art collectors are more wary of fine art photography's long term value, and the fact that any reprints of the same images made in the future could drastically affect the value of their investments. However, a new report has found that confidence in the photography market is steadily rising, meaning we'll likely see prices continue to balloon.
Read more…
Sony is continuing its campaign against the mindless use of DSLRs. After releasing a series of viral videos poking fun at inept DSLR users, Sony is now turning to facts and hard evidence (in addition to humor). The company recently did a survey of 1012 non-professional DSLR users, and the results are pretty interesting.
Read more…
I'm going to be in Cologne, Germany next week, covering the latest and greatest photo announcements at Photokina 2012. In addition to posts — and possibly live blogs — on this website, I'll also be sharing photographs of the products, parties, and press events through our relatively new Instagram account: @petapixel. The photo steam may also be added to the sidebar of this blog. Follow along for the inside scoop!
Read more…