Posts Tagged 'startup'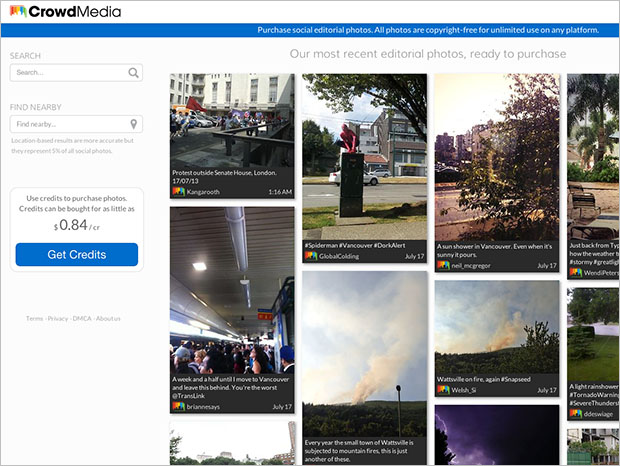 Attention photojournalists: As if times weren't tough enough already, a new startup wants to replace your work with Twitter-based crowdsourcing.
Read more…
Freshly launched over at SXSW 2013 in Austin, Texas, Imgembed is a new startup company that aims to promote the legitimate use of photos online. Well, it's actually the latest in a string of companies to tackle the embeddable photo concept. For photo purchasers, it's an easy way to find, pay for, and use images. For photographers, its an easy way to make your images available for purchase.
Read more…
Obvious Corp, the company that spawned Twitter, has unveiled a new project called Medium. It's a site that attempts to revolutionize how online publishing is done.
Instead of content being centralized around individual people, it features photographs and text grouped into themed collections. Content within collections can be sorted by how "interesting" viewers rated it to be.
Read more…
Instagram is reportedly in the process of securing new round of funding that values the 16-month-old company at a staggering $500 million — 20 times what the company was valued at a year ago. Although the $40 million round has drawn a lot of interest from investors, many of the top VC firms have decided to stay away due to the high valuation and the fact that Instagram still needs to prove that it can turn popularity into profit. The 9-man company currently has over 15 million users and is working on bringing its popular app to the Android market.
Financing to Value Instagram at $500 Million [The Wall Street Journal]
FastCompany paid a visit to the Instagram offices in San Francisco recently to chat with founder Kevin Systrom:
CEO Kevin Systrom and the Instagram team are exactly what you picture when thinking of scrappy startup entrepreneurs: four guys in a room. Literally, there are only four people at Instagram. And they're working in a corner of a shared tech office in San Francisco's South Park neighborhood.
Some interesting facts mentioned in the interview: the service is growing at a rate of 1.3-1.4 million users per month, they're planning an Android version, they haven't spent a dime on marketing, and the current app is only the "tip of the iceberg" in their plans to change how we take and share photos.
Kevin Systrom Says Instagram Is More Than Just A Pretty Picture [FastCompany]
Millions of people know Instagram as a fun way to share photographs, but get popular enough on the service and it can be a profitable one as well. Keepsy, a startup that helps people quickly create albums from Instagram and Facebook photos, has launched a new curated gallery featuring top Instagram artists. Fans can purchase photobooks from the site at a price set by the artist, and profits are split 50/50 between the service and the photographer. While only about 20 users are represented currently, they're planning to slowly add more based on merit.
The gallery is also a good place to find people to follow for fresh inspiration.
Featured Photographers (via Mashable and TechCrunch)
Shooting photos or video remotely may get a whole lot easier if a startup company named Satarii is able to raise enough funding ($20K) for their idea — a camera base called the Satarii Star that automatically keeps the lens pointed at a remote sensor. We could waste our breath explaining how it works and all the different applications it could be useful for, but the video above does quite a good job.
So far they've built a functional prototype that they showed off at CES, and raised about half their target funding. If you'd like to jump in on the project, visit their IndieGoGo page here.
Group Story is a new photo service that's centered around building photo books collaboratively with other people who photographed the same event. For example, the parents of a soccer team could pool photographs together and create a photo book documenting the soccer season.
Everything is done through a simple web interface, and after photographs are uploaded, you can use any of the photographs in the group to create a page. Once pages are created, you can use any of the pages in the group to create a physical photo book.
The resulting 8×8 inch books cost $13 for 20 pages in a softcover format, and $25 for hardcover. Additional pages are 50 cents each. There isn't currently any feature for sharing the resulting books through the web, but providing an embeddable photo book that users can post online and/or link to might be a good future feature.
Some of the larger players in the photo space are also thinking hard about making photos more collaborative and social. Just early last month Facebook acquired group photo sharing service Divvyshot.
(via Mashable)
Mopho is a new photo sharing service with a strange name — until you realize it's a domain hack using Tonga's ccTLD, making it mopho.to.
The idea is similar to more established location based services such as Foursquare or Gowalla, but rather than sharing your locations via check-ins and then adding photos, you share a geotagged photograph through the iPhone application. You can download the free application here.
Once you capture a photo, geotag its location, and publish it through the app, your friends will be notified through their apps, the Mopho website, or Facebook.
The photo and location service spaces are both extremely crowded with 800-pound gorillas in each. I don't think Mopho offers enough to rise above its competition, but it might succeed in developing a small, enthusiastic community of users like all the other services in the long tail of these spaces.
LensVector, a Silicon Valley startup working on novel lens technology, has received its latest round of funding from In-Q-Tel, a not-for-profit venture firm that invests for the sole purpose of boosting US intelligence capability by providing the CIA with state-of-the-art information technology.
So what's LensVector developing that CIA would want? Lenses that focus electronically with no moving parts.
Here's a diagram by LensVector showing how their tiny autofocus lenses work compared to traditional technology:
Rather than using mechanical parts to focus a lens, LensVector uses electricity to align liquid crystals to a desired shape, which focuses light to a particular point.
Given the CIA's interest in this technology, it must be working pretty well. Hopefully we'll see this introduced to consumer cameras that need it (i.e. cell phones) soon.
A fun fact: another startup that received In-Q-Tel funding was Keyhole, Inc., the geospatial data visualization company that was acquired by Google in 2004. Their flagship product, Earth Viewer, was turned into Google Earth.
(via CNET)