Posts Tagged 'sportsillustrated'
And maintained my own artistic integrity while delivering what the client asked for
May 21, 2014 · Alexis Cuarezma
·

27 Comments »

·
Two days ago was the anniversary of the Boston Marathon bombings, and in true Boston spirit, the city came out in force to show that this tragedy had not stolen, but rather strengthened its spirit.
The slogan Boston Strong has been adopted by the city's residents, and last Saturday Sports Illustrated and photographer Greg Heisler got together with a crowd of over 3,000 Bostonians to capture this slogan on film for this week's cover of SI. Read more…
Not all of the women in this year's Sports Illustrated swimsuit issue are made of plastic, and yet the unique Barbie swimsuit shots we told you about a few days back will STILL play second fiddle to a much cooler photo shoot of model and actress Kate Upton… scantily clad… floating around in actual zero gravity. Read more…
Guys, you may want to be extra careful about where you read your copy of the Sports Illustrated swimsuit issue this year. It will contain a double-helping of grist for feminist outrage this time around, as Barbie, that icon of feminine pulchritude and academic rigor ("Math class is tough. Let's go shopping!") struts her stuff alongside the human models. Read more…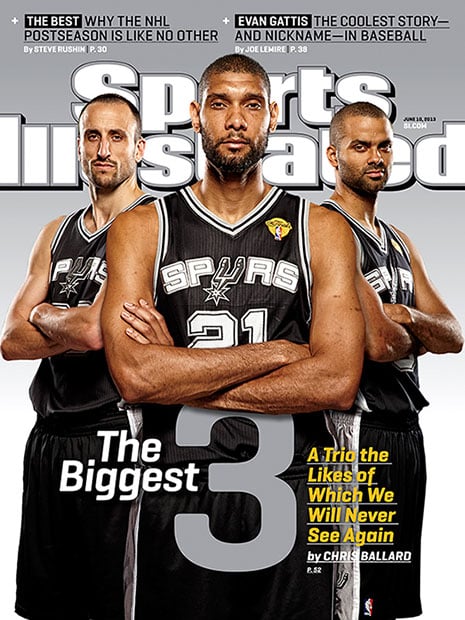 With the NBA Conference playoffs nearing completion and the Spurs already a lock for the Finals, I got a call from Brad Smith, the Director of Photography at Sports Illustrated, asking if I could quickly get to San Antonio.
Tim Duncan, Manu Ginobili, and Tony Parker rarely if ever pose together, but had reluctantly agreed to pose for an SI cover which would come out a couple of days later, to coincide with the beginning of the finals.
Read more…
Born in 1922, photographer and writer Art Shay has had a career that most creatives only dream of. Between Life, Time, Fortune, Sports Illustrated, Forbes, Business Week, Parade, The New York Times Magazine and many more, Shay has shot about 1,100 magazine covers.
This video — shot and produced by Bradley Rochford of Hanson Dodge Creative — gives you a quick overview of the amazing life and work of this still-active 91-year-old photographer. Read more…
Last week, Sports Illustrated magazine published the above photograph by US Presswire photographer Matthew Emmons. Found in the "Leading Off" section, the photo shows the Baylor Bears football team celebrating after their upset victory over the #2 ranked Kansas State Wildcats.
The image has many people talking, not because of the unlikely event that it captures, but because it appears to be heavily manipulated. And it's not just the fact that the picture looks like it passed through an HDR program, but that the Baylor football players didn't wear green jerseys during that game. They wore black.
Read more…
This photo is the greatest sports photo of all time — at least according to Sports Illustrated. The magazine has published a gallery containing 100 of the greatest images (from an American's perspective), and the #1 image is the above shot of Michael Jordan hitting the game-winning shot to help the Chicago Bulls beat the Utah Jazz and win the 1998 NBA Finals in 6 games.
Read more…
The latest issue of Sports Illustrated magazine features 18 baseball photographs by sports photographer Brad Mangin across 6 of the opening pages. Not just any photographs, mind you, Instagram photos. Mangin has an interesting blog post on how the whole process happened:
By the time the regular season opened in April I felt like I was shooting baseball for the first time ever, through the lens of my iPhone and the square format of Instagram. I wrote a blog post for The Photo Brigade entitled "I Love My New Camera." I wasn't kidding! I started looking at everything with a fresh set of eyes from the moment I walked onto the fields in Oakland and San Francisco about three hours before each game. It was like I was a newborn photographer seeing things for the first time.

I was naturally drawn to the dugouts where I found many baseball-related pieces of equipment that made for good pictures. By the time the players came out and sat in the dugouts before the games I was ready to try and capture them getting ready. At first I felt pretty strange not using my Canon EOS-1 Mark IV and shooting with my iPhone instead. I eventually became more comfortable and started getting some pictures of the ball players that I liked.
How I Made Instagram Images That Were Good Enough for Sports Illustrated (via A Photo Editor)
---
Image credits: Photographs by Brad Mangin
Every year, ESPN releases a special Body Issue in which athletes pose nude — an edgy, artful response to Sports Illustrated's Swimsuit Issue that focuses instead on the power and form of athletes' bodies. Last summer, a sports writer stripped down for an interview with two NHL players, a turning of the tables on sometimes awkward locker room interviews. This year, ESPN columnist and senior writer Jim Caple stripped down for his own body images by sports photographer Rod Mar. Caple poses as nude Lance Armstrong, a doughnut and press pass version of Michael Phelps, plus some other memorable sports photographs.
Read more…