Posts Tagged 'romantic'
Photographer puts his intervalometer to romantic use
Helena Vieira · Feb 28, 2014 ·
7 Comments »
·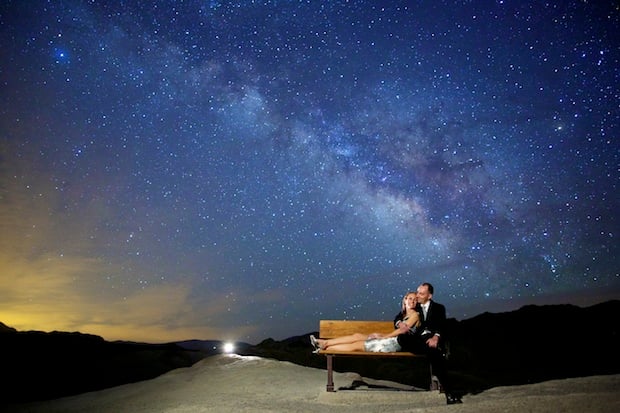 Long exposure photographs of stars and romantic engagement photographs aren't often found together, but that's the fusion wedding photography couple Robert Paetz and Felicia Wong have been dabbling with as of late. The duo takes their clients out into natural landscapes away from light-polluted cities and photographs them under the night sky. They call the resulting photos, "astro wedding photography."
Read more…
When Wellington, New Zealand-based photographer Brady Dyer proposed to his then-girlfriend Emma in Florence, Italy last year, he had her capture her own special moment on camera. Dyer writes,
After having the most amazing day ever, we were on the deck of our penthouse apartment drinking Veuve at which point Emma said "this moment couldn't get any more perfect"… She was wrong! I told her to do a big 360 degree video of the sunset finishing on me and I would wave and say hello. [#]
The whole thing "couldn't have gone more perfectly," the photographer says.
For Valentine's Day today (you didn't forget, did you?), San Francisco-based self-proclaimed super nerd Doctor Popular decided to give his significant other a card packaged inside a 35mm film canister.
Read more…
Can you believe the proposal photo above wasn't planned? In fact, the photographer wasn't even aware of what was going on. It was snapped this past Sunday by 20-year-old Sydney University student Michael Keane, who visited Sydney's Bondi Beach early in the morning to capture photographs of the sunrise. After returning home to post-process the images, Keane zoomed into his photos and was surprised to find that he had accidentally captured a very romantic moment happening way in the horizon.
Read more…
It's a little to late to get this card in time for Valentine's Day this year, but maybe this can give you some inspiration if you're looking to create one by hand for a special photography-lover in your life. This "We Just Click" card sells for $4.50 from dudeandchick's Etsy store.
Do you know of any other photography-theme Valentine's Day cards? Link us to them in the comments!
(via Photojojo)