Posts Tagged 'review'
A sharp, light and cheap option for mirrorless astrophotographers
Jun 04, 2014 · Ian Norman
·

24 Comments »

·
This week marks the 60th anniversary since Leica introduced the now-iconic M3, a camera many consider to be the best Leica ever produced and still the most successful M-Series camera ever made at over 220,000 units sold by the time production ended in 1966.
And so, to pay homage to this titan of photographic history, DigitalRev decided to give the M3 a proper video and take it out onto the streets of Hong Kong for a good old hands-on review. Read more…
If you're sick of the standard, monotone, boring-to-look-at unboxing videos, this one by Peter Gregg might help you appreciate them again. Combining a borderline theatrical performance with both an unboxing and quick review, it definitely keeps things interesting.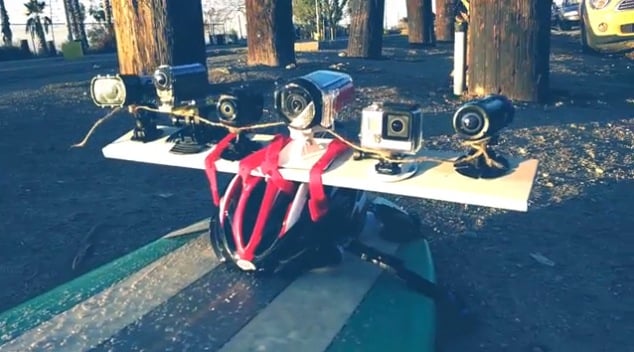 When it comes to choosing an action cam to film your daring, crazy and possibly stupid adrenaline–fueled endeavors, there is no shortage of options. To help you make a more informed decision based on your needs and performance of the cameras, Gizmodo has tested six different action cameras, quite literally putting them head-to-head. Read more…
We have our own Sigma 50mm f/1.4 Art lens on the way for full review, but until then it's interesting to see what some of the big names in gear review are saying about this optical beast and how it compares to the Otus it was meant to compete with.
Today, one of the biggest of those reviewers, DxOMark, released the results of its tests — and news is good if you're planning to pick one of these beauties up. Read more…
Just days after publishing their glowing review of the Sigma 50mm f/1.4 Art series lens that ranked it leaps and bounds ahead of the Canon and Nikon competition, SLRgear finally got their hands on the ZEISS Otus for comparison.
And it seems ZEISS will have to work hard to justify the rumored price difference between those two lenses… Read more…
When Sigma announced their 50m f/1.4 DG HSM Art lens, they included some extremely dramatic statements. Not only did they say that they wanted to beat out Canon and Nikon, they intended to blow them out of the water, stating that they were aiming to make the lens as good, if not better, than the $4,000 Zeiss 55mm f/1.4 Otus Distagon T*.
Last month we shared a somewhat shady review of the lens, which came with plenty of skepticism, so today we're sharing with you a review from a much more reputable source, SLR Gear. Read more…
Launching soon, the photo above shows the f-stop Loka UL: an ultra lightweight backpack aimed at adventure photographers with an appetite to explore every corner of the map. Word is that f-stop Gear are planning a release for mid to late spring with a price point hovering around $225.
When released, there will no doubt be many current Loka owners tempted into an upgrade to the more compact and featherlight Loka UL. We're in the process of a lengthier review at this moment and with the winter we've had up here in the Great White North, it may even be deemed a torture test.
First impressions are great. It's very well constructed and f-stop have done wonderful work shaving over a 1.25lbs from the original Loka. That might not sound like much but it adds up quickly when setting out for a longer hike. Check back soon for the full review… but I have a feeling you should begin saving now.
The Zeiss Otus is easily the biggest DSLR 55mm currently available. I say currently, because I'm sure in some lab in the depths of upper Siberia a technician made a 50mm the size of a small child, just because. But the Otus shouldn't surprise us, Zeiss will never shy away from the pursuit of image quality at the expensive of "convenience." Read more…
If you're in the market to purchase a new full-frame camera from Canon, but aren't sure whether to go with the 6D or 5DMIII, the folks over at DSLR Video Shooter have created the above video to help you compare and contrast the two offerings from Canon and decide if the 5D is going to be worth the extra dinero for you. Read more…