Posts Tagged 'record'
Australian underwater photographer Darren Jew has set a new Guinness world record by capturing 9 whales in a single underwater shot.
Read more…
Chances are good many of our readers couldn't care less about a wedding photo from Kim Kardashian and Kanye West's wedding, or even what the most popular photo on the photo sharing service Instagram is. But the story behind the photo that claims both of those titles is actually pretty interesting. Read more…
It managed to make its way into the Oxford English Dictionary last November, gaining the honor of being 2013's "word of the year," but there's one book the 'selfie' has remained absent from… until now.
With the help of two Indiana natives, Mark E. Miller and Ethan Hethcote, selfies have now infiltrated the Guinness Book of World Records as well, with Miller and Hethcote setting the record for "most selfies taken in an hour" at a whopping 355. Read more…
"Put down that phone and eat!" That's what a lot of frustrated cooks must have been yelling Thursday, as Instagram set a new one-day record for uploads thanks to the overlapping of Thanksgiving and Hanukkah. Read more…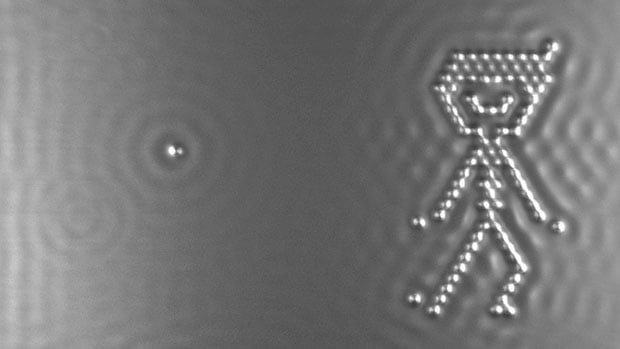 Back in 2010, Nokia created "the world's smallest stop-motion video" using its new N8 smartphone and a tiny 9mm-tall figure of a girl. If you think 9mm is tiny, try 1/25,000,000th of a inch!
Today, IBM scientists announced that they have created the world's smallest movie. Unlike the previous record holder, this one will be extremely difficult to beat. The stop-motion movie was made using individual atoms.
Read more…
Barack Obama broke online photo-sharing records this week after winning Tuesday's presidential election. When his victory became evident, Obama shared the above photograph on his Facebook timeline with the simple caption, "Four more years." That photograph quickly attracted "likes" faster than any other image shared through the social networking service. When it hit more than 2.1 million likes shortly after midnight Wednesday morning, Facebook announced that it had become the most-liked Facebook photo of all time.
Read more…
Indiana university historian Patrick Feaster recently discovered a record featuring the voice of Emile Berliner — inventor of the phonograph. Created in 1889, the record is likely the oldest in the world. What's interesting, however, is how Feaster managed to obtain it: through a photograph. That's right, Feaster discovered an image of the disc preserved in an old 1890 German magazine from the same year and then was able to recreate it by scanning and analyzing the photo.
Read more…
Albert Kahn was a wealthy French banker who launched a project in the early 1909 that aimed to create a photographic record of the world. The first commercially successful color photography process, Autochrome Lumière, had just arrived two years earlier, and Kahn decided to use the medium to both document human life and to promote peace. He sent out an army of photographers to 50 different countries, amassing 72,000 photos and 100 hours (183,000 meters) of film that became one of the most important collections of images in human history.
Read more…
German scientists have been awarded a Guinness World Record for "fastest movie" after successfully capturing two images of an X-ray laser beam 50 femtoseconds apart. One femtosecond is equal to one quadrillionth (or one millionth of one billionth) of a second. Here's some science talk explaining it:
[…] the scientists split the X-ray laser beam into two flashes and sent one of them via a detour of only 0.015 millimetres, making it arrive 50 femtoseconds later than the first one. Since no detector can be read out so fast, the scientists stored both images as superimposed holograms, allowing the subsequent reconstruction of the single images.
With these experiments, the scientists showed that this record slow motion is achievable. However, they did not only take the world's fastest but probably also the shortest film – with just two images. Thus, additional development work is necessary for the use of this method in practice. [#]
And we thought one trillion frames per second was impressive…
---
Image credit: Photograph by Stefan Eisebitt/HZB